The University Libraries house microforms, or printed matter reproduced in a greatly reduced format, in several locations, depending on subject area. Microforms include: microfiche (3"x5" and 4"x6"); microfilm (16mm and 35mm reels); and microcards (3"x5" and 6"x9" opaque cards bearing microprint documents).
Image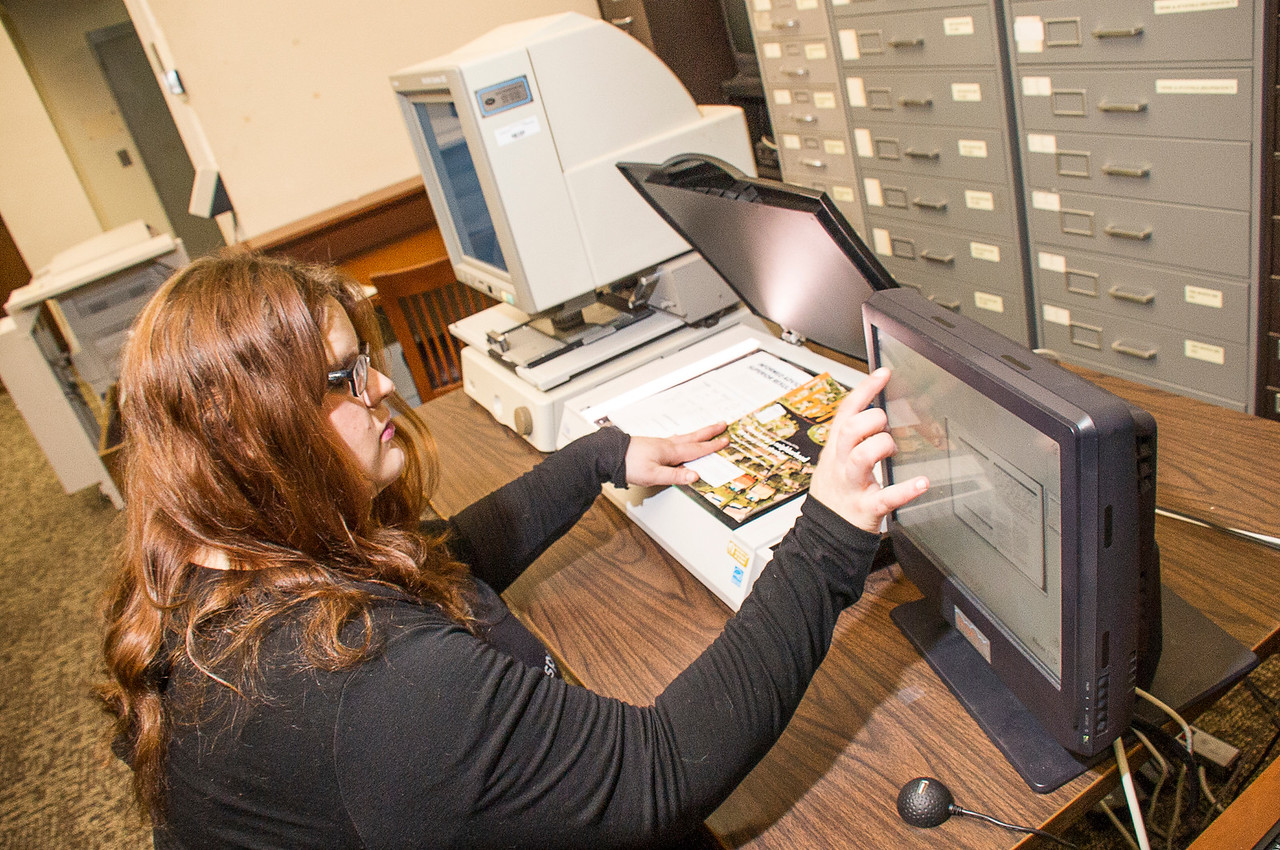 Microforms Locations
Most of the microforms collections, including newspapers, periodicals, serials, dissertations, and monographs, are housed on the lower level of the University Library in the Periodicals Room. Collections relating specifically to academic programs of Rockefeller College are housed at the Thomas E. Dewey Library on the downtown campus. College catalogs, as well as other selected reference materials in microcopy, are located in the Reference area on the first floor of the University Library. Government documents in microform, such as government agency materials and congressional records, are maintained on the first floor in the U.S. Government Publications area of the University Library. The M.E. Grenander Department of Special Collections and Archives houses some archival material in microform.
Loan Policy
Monographs in microform and reading equipment for microformats are available for loan. Newspapers and periodicals on microform do not circulate.
Equipment
Microform reader/printers are located in microforms areas near their respective collections. Directions for use are posted on or near the readers, and library staff are available for assistance.
Printing Services
For self-service copying, digital reader/printers provide a range of magnifications. Copies are generated in PDF format and can be saved to disk, emailed, or printed. Printing electronic copies is 10¢ per page using the SUNYCard debit system. Directions for use are posted on or near copiers, and library staff are available for assistance. Guest SUNYCards can be purchased from the terminal available in each of the three libraries.
Requests for known citations on microform can be made by University faculty, staff, and students through the UA Delivery service.
Finding Aids
There are several general and specific finding aids used to locate microforms. Minerva, the University Libraries' online catalog, is the best starting point for locating microform periodicals by title; newspapers by title; dissertations; serials; and monographs. To identify articles in newspapers, periodicals, or large collections, there are indexes located throughout the library system. Printed indexes and guides specific to microforms collections are located on shelves near the collections to which they relate. Newspaper and periodical indexes in print, on fiche, and electronic format are located in the Reference departments of each library. Indexes and guides to collections which include, but are not restricted to, microcopy are located in the Reference Department of the University Library. Government documents may be accessed by using print and electronic indexes and guides.
Major Collections
Microforms collections cover many disciplines and are truly fine sources of original literary, historical, and scientific documents. Below are descriptions of selected microforms sets.
AT THE DEWEY LIBRARY
IN THE GOVERNMENT DOCUMENTS COLLECTION
United States Census: Decennial Population and Housing Census publications, 1790-1960. Nondecennial Census publications including Economic and Agriculture Census, 1820-1967.
Index to International Statistics: Statistical publications of international intergovernmental organizations including IBRD, WHO, and UN, 1983-.
New York State Publications: University at Albany is a New York State depository library and holds publications of the legislature, the judicial branch, and the executive branch, including NYS agencies.
AT THE UNIVERSITY LIBRARY
Black Literature, 1827-1940: African-American periodical literature, with companion guide.
Curriculum Development Library: Documents and curriculum guides for grades K-12, early childhood education, and adult basic education collected from throughout the U.S. and Canada.
ERIC: Documents collected by Educational Resources Information Center; companion fiche index; print and electronic indexes are available.
Early American Imprints: Two series containing nearly 100,000 full text entries of books, pamphlets and broadsides published in America between 1639 and 1819. Indexes are available in the Reference Department.
Early English Books, 1475-1640: Full text reproductions of 22,700 English books printed before 1640. The collection is based on a list called Short-Title Catalogue of Books Printed in England, Scotland and Ireland, and of English books printed abroad, 1475-1640 (STC I) by Pollard and Redgrave. Each title is individually cataloged and can be searched through the online catalog (e.g., Bible). Print indexes to this resource are available.
Early English Books, 1641-1700: Also known as the Wing Collection, full text reproductions of English books printed between 1641-1700 and some that were not included in the first series. It is based on the Short-title catalogue of books printed in England, Scotland, Ireland, Wales and British America and of English books printed in other countries, 1641-1700 (STC II) by Wing. Each title is individually cataloged and can be located through the online catalog (e.g., Paradise Lost). Print indexes to this resource are available.
Facts on Film: Southern Education Reporting Service publications, the Race Relations Law Repertoire, relevant laws, newspaper clippings, pamphlets, magazine articles, and miscellaneous items; a companion index is available.
Foreign Relations of the United States (1861-1942): Diplomatic correspondence between the U.S. and foreign countries, including letters, treaties, special presidential messages, etc.; contains index.
German Baroque Literature: Full text reproductions on microfilm of fifteenth and sixteenth century literary works from the collections of Yale University. Companion guides on microfilm.
Herstory: 821 newsletters, journals and newspapers "published by and about women's liberation, civic, professional, religious and peace groups." Reproduced from the collection of the International Women's History Research Center. A companion guide is available.
HRAF (Human Relations Area Files): Microfiche reproductions of research documents on a wide range of topics for a wide variety of cultures. Companion guides are included.
John Henry Ingram's Poe Collection: Letters, documents, pictures, newspapers, magazines and other manuscripts related to Edgar Allan Poe, collected by the eccentric English Poe enthusiast, John Henry Ingram, available on microfilm.
Papers of the NAACP: An expansive microfilm collection covering meeting minutes, correspondence, campaigns, general office files, legal department files, committee papers and many other documents relating to the National Association for the Advancement of Colored People. Print indexes are available.
The Philippine Culture Series: Microcard reproductions of 101 unique sources dealing with the history, geography, ethnology, and languages of the Philippine Islands.
Three Centuries of Drama: Microcard reproductions of over 5,000 English and American plays, collected from the Elizabethan era through the 19th century. A print index is available.
Underground Newspapers: Microfilm reproductions of over 250 underground publications from 1965-1970. The companion guide is located in the Microforms area. Alternative Press Index is located in the Reference Department and online.
Where To Find
University Library and Dewey Graduate Library