By Trudi Jacobson
I never thought I would have the opportunity to visit South Africa, but an unexpected invitation from Dr. Jako Olivier, UNESCO Chair on Multimodal Learning and OER and Professor in Multimodal Learning at North-West University (NWU) in South Africa, changed that. Dr. Thomas Mackey of SUNY Empire State College (and my frequent research collaborator), and I were asked to each give a keynote address at the first International Conference on Information Literacy (ICIL) at NWU in Vanderbijlpark, South Africa. ICIL was conceived of as the sister conference to ECIL, the long-established European Conference on Information Literacy, and was founded to provide a venue for those who do not have the opportunity to travel to Europe or beyond for professional conferences.
Image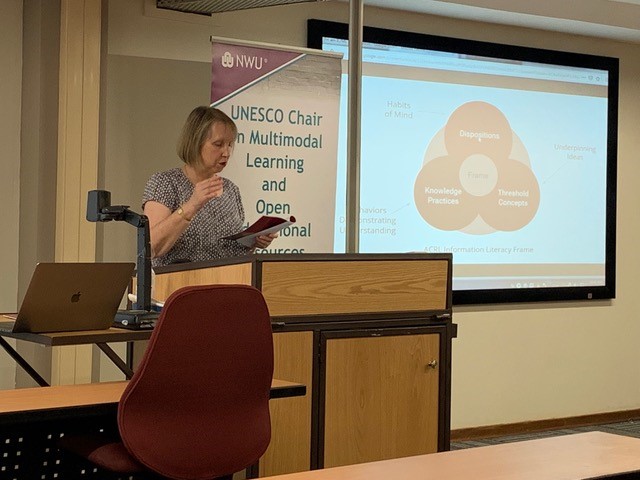 My topic for the keynote, given on September 26, was Creating Shareable Knowledge: Exploring the Synergy between Metaliteracy and Open Pedagogy. I spoke about the components of open educational practices, including open educational resources, open pedagogies, open learning, open sharing of teaching ideas, and open technologies. A key aspect of the talk was how metaliteracy can both scaffold and add to student learning in open pedagogical settings, as evidenced by an information literacy course employing open pedagogy in which students contribute content to Wikipedia.
We arrived in Potchefstroom, home of another NWU campus, the week before the conference. Dr. Olivier had invited us to give a keynote lecture and two workshops as a part of the UNESCO initiative on multimodal learning and OER. Faculty members, librarians, and instructional designers attended these events, and before we had left campus for the weekend, plans had already been made by several participants to incorporate metaliteracy, the topic of our sessions, into their courses in diverse and creative ways.
We had the opportunity during the intervening weekend to see some notable places in the country, including the Apartheid Museum in Johannesburg. Randomly-generated entry tickets determined whether a visitor used the entrance way for whites or non-whites, each of which provided a very different experience and a visceral hint of conditions during apartheid. We visited several nature preserves and the Sterkfontein Caves in the Cradle of Humankind UNESCO World Heritage Site, where a 2.3-million-year-old fossil Australopithecus africanus was found. To someone who studied physical anthropology in college, this was an amazing experience. A highlight of the trip came at one of our lodgings, where we stood by as a group of zebras arrived to drink from the in-ground pool.
The professional benefits from the trip include a potential research collaboration with Dr. Jako Olivier and his wife, Dr. Louise Olivier, who will be conducting a metaliteracy study amongst her 400 students in the spring. Dr. J. Olivier also translated the metaliteracy goals and learning objectives into Afrikaans and Setswana, in order to increase their availability to others in South Africa.
More information about the five presentations I gave solo or with Dr. Mackey can be found here.