The University Libraries extend best wishes and fervent congratulations to the University at Albany Class of 2023! Throughout your time here, you have excelled as Great Danes, and now you get to celebrate Commencement Weekend.
Before the confetti flies, Interim Dean of University Libraries Carey Hatch has a message for our graduates.
"You are graduating into an era of transformational change. UAlbany has prepared you to excel and thrive. Whether you are entering the workforce, pursuing graduate studies, or lining up your next steps, the experiences you learned inside and out of the classroom here will serve you well. Keep pushing boundaries, keep leading, keep learning, and keep in touch. The Libraries are always here for you, in person or online."
Image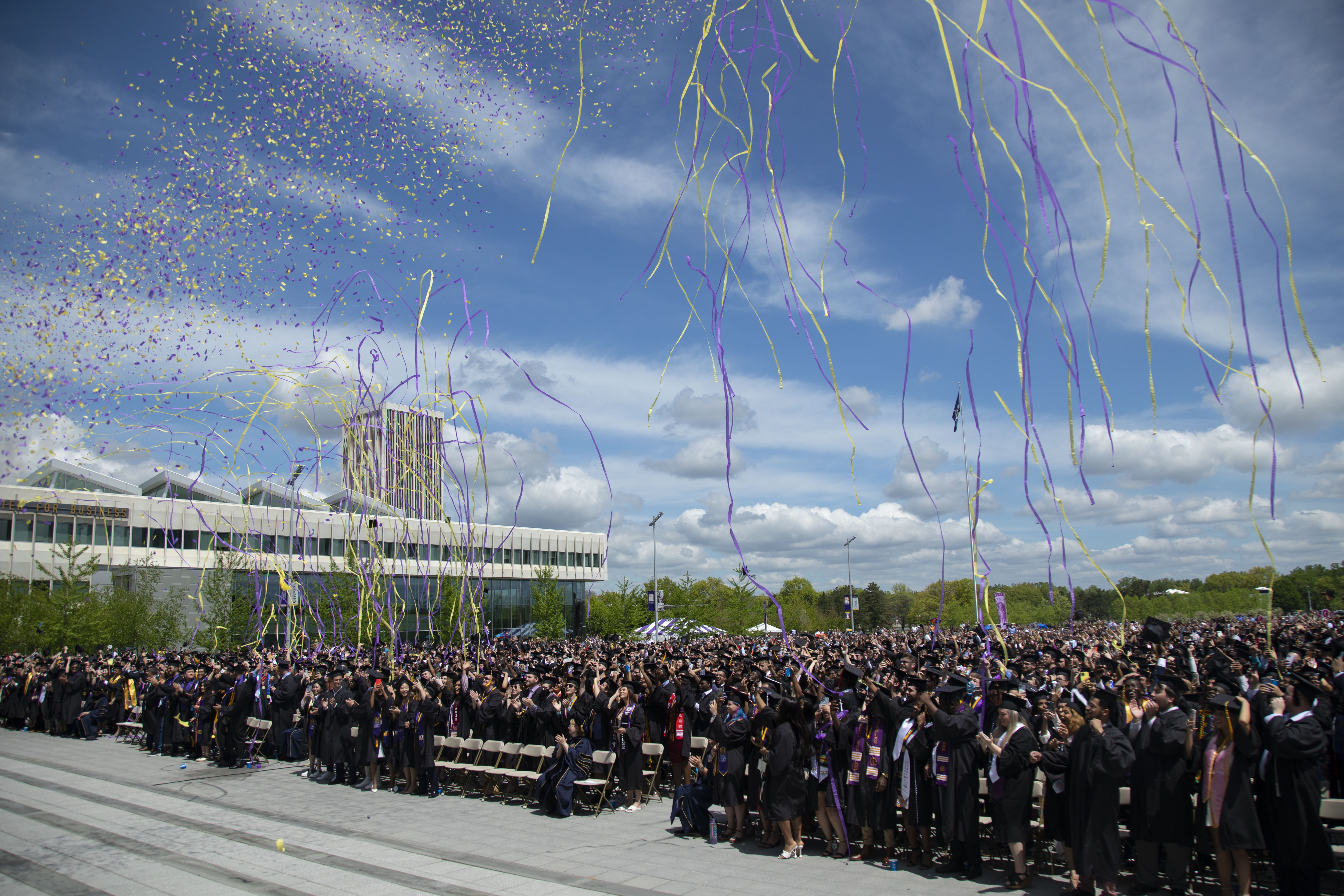 Congratulations to OUR students!
We also want to give a special round of applause to the graduating students who have been involved with the University Libraries, whether as student employees or as volunteers.
Jasmine Ambrose
BA, Emergency Preparedness, Homeland Security and Cybersecurity
Tiffany Camp
BA, English
Britney Colas
BA, Criminal Justice
Abby Cowan
MS, Information Science with a concentration in Archives and Records Management
Claire Dell-Priscoli
BA, English and Theatre
Charini Jayasekera
MS in Information Science, Data Analytics
Andrea Lurie
MS, Information Science with a concentration in Archives and Records Management
Tahseen Fathima Syed
MS, Applied Data Science and Applied Mathematics
What's next?
As an alumnus, you can still use the University Libraries! Here are some resources for graduates:
Borrowing Privileges
Alumni may sign up to receive borrowing privileges! You may borrow up to 30 books at a time for up to 30 days, with two renewals. Media may be borrowed for up to 7 days with one renewal. Reserves may be borrowed for 3 hours at a time, with no renewals.
To register for borrowing privileges you must register in person at any of our three libraries' circulation desks. You must present valid photo identification when you register. Since we have to verify your status in the University Registrar's Alumni database, we strongly encourage you to visit us during regular business hours. (8 a.m. – 5 p.m., Mon. – Fri.) when staff with access to that database are available.
Database Access
The SUNY Office of Library and Information Services provides access to two databases for alumni. These databases can be accessed remotely. However, in order to access these databases, Alumni must be members of the Alumni Association. Membership is free.
First time users must register first. To register for a username and password, please view the University at Albany Alumni Online Community page.
Once registered, an alumnus may browse these two databases:
Academic Search - Alumni Edition Designed for the research needs of the post-college professional, this database includes the full text for 3,350 journals and indexing and abstracting for 8,200 journals. It is multidisciplinary.

Business Source - Alumni Edition Designed for the research needs of the post-college business professional, this database includes the full text of 1,450 full text business magazines and journals. All areas of business are covered.
Alumni/ae who visit the University Library, on the uptown campus, may use nearly all of the hundreds of online databases on public computers. (Vendor licenses restrict off–campus access of these databases to current faculty, staff, and students.)
Congratulations Class of 2023!