On November 4th, 2020, the Academic & Special Libraries Section of NYLA presented their Outstanding Support Staff Award to Lindsay Van Berkom. The award "seeks to recognize library staff and volunteers who go above and beyond the limits of the job title and who exemplify the ideal that true professionalism isn't limited to professional librarians."
A fitting recognition for Lindsay, who serves as the Libraries' Scholars Archive Administrator, as well as the Coordinator of Dewey Access Services. She previously received the State University of New York Chancellor's Awards for Excellence in Professional Service.
What's behind her success? A tireless drive for high-quality work, a positive attitude, and a healthy, competitive spirit.
Keep up if you can.
Image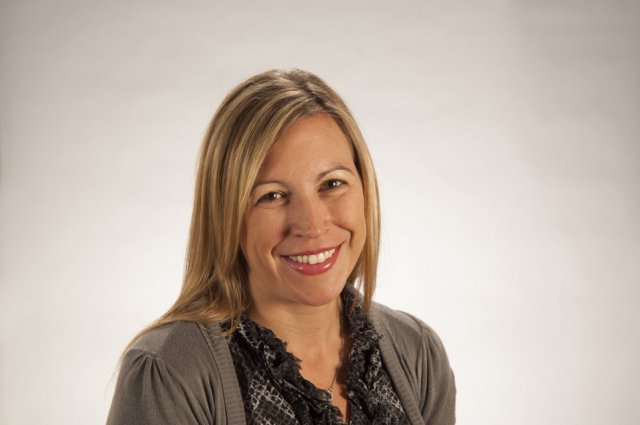 "Lindsay goes above and beyond for our students... She leaves them empowered."
Lindsay arrived in the Albany area in 2007, following nearly ten years at Cornell University. "After graduating from Cornell in 2004, I felt like I needed a change," she explained. "Close friends of mine lived in the Capital District. It seemed like a nice area that was not too far away from home." She learned of an opening at the Dewey Graduate Library, and a few months later, she accepted an offer to serve as the Libraries' Assistant for Operations.
Within that capacity, she acted as the building manager: opening and closing the library, coordinating with facilities, and serving as a liaison to Library Accounting on budget items. She also staffed the reference desk, as well as helped out with circulation and interlibrary loan on occasion.
What's Scholars Archive?
Scholars Archive is a digital repository for the UAlbany community to collect and share scholarly work in a centralized location where it will be preserved and stored securely. Work shared in SA is comprehensively indexed and openly available, increasing the audience and impact of the work. Participating authors have access to on-demand metrics, which can help tell the story of their scholarship.
Learn more here
A few years later, Deborah Bernnard, then head of the Dewey Graduate Library, approached Lindsay about an opportunity to get involved with Scholars Archive, the university's institutional repository. "The idea was to have a digital scholarship type center out of Dewey," Lindsay explained.
The project grew in scope and size, and by the end of the Fall 2016 semester, Lindsay was able to marshal all of her energy on Scholars Archive. "There always seems to be something cooking," she said of the repository. "Collecting and processing Faculty CVs is a service that ebbs and flows. The Scholarly Communication Librarian and I are working together on a few projects, too." These include importing materials from the now-defunct Center for Latino, Latin American, and Caribbean Studies (CELAC) and New York Latino Research and Resources Network (NYLARNET); hosting a new graduate student journal, Living in Languages; and collaborating with several library departments (Archives, Cataloging, Systems, Preservation) to establish a workflow to get all prospective UAlbany Electronic Theses and Dissertations into the repository.
Her work on Scholars Archive has drawn the appreciation of faculty from across the campus. Dr. Ryan Irwin, Associate Professor of History, has seen Lindsay's talent up close over the last few years. Together they created a process where students' honors theses went directly into the repository. "Lindsay goes above and beyond for our students," he said. "When we worked together on the History Department's honors seminar, she did not just introduce students to the Scholars Archive. She came into the classroom to teach them how to present their ideas to different kinds of publics. She left them empowered."
If a researcher is on the fence about submitting work to the repository, Lindsay has some advice: "For anyone that is hesitant about trying Scholars Archive, I would say that they should have a conversation with us to talk about their concerns. Often, people are surprised about what the repository can do and how it can help them with their work/research."
Beyond Scholars Archive, Lindsay has kept busy in a number of areas. Over the summer, she took on a leadership role in the Access Services Department. She also served alongside Emily Kilcer on the University's Open Access Policy Working Group. The Libraries are taking an active role in the conversation, and this excites Lindsay.
On a day when she can snag some extra sleep, Lindsay's alarm clock rings at 5:30 am. "I'm really not a morning person," she insists, but only after noting she typically wakes up at 5:00.
As the mother of two boys, with a bevy of co-curricular activities (Lindsay coaches the Mohonasen Boy's Capital District Youth Basketball League and St. Gabriel's CYO League), she uses the pre-dawn hours to fit in some time for herself. Don't think she's relaxing, though, because she beats the sunrise to attend high intensity interval training (HIIT) classes. "Exercise has always been important to me, but a couple of years ago I was feeling like I needed something new and wanted to be more intentional with my workouts and fitness goals," says Lindsay.
"In August 2018, I joined PWR (Performance, Wellness, Recovery), located in Albany (Owner, Brittany Burnham, is a UAlbany alum). It's been one if the best decisions I've made to invest in myself. There's a connection between building physical and mental strength. I've learned how that can also apply to personal growth."
A typical class includes workouts with dumbbells, barbells, bosu balls, resistance bands, mini bands, medicine balls, and even tires. That on its own would exhaust the average person, but Lindsay continues to seek out avenues to push herself. "I planned to participate in few Spartan Races this year, but COVID put a damper on those plans, she said. "I am continuing to train in hopes for a better opportunity in 2021."
PWR and Spartan Races require participants to adapt to rapid change, with intervals and obstacles targeting different areas and muscle groups. In a way, that's what draws Lindsay to them—and her work at the Dewey Library.
"The work I do at Dewey requires wearing different hats," she says, referring to the differences in scope between circulation services and scholarly communication. "Both require my best effort: I want a good result."
The evidence shows that her best effort is there. For those who want to keep up with Lindsay, we have one piece of advice: Set your alarm clock early.