GREAT DANEtopia
The University at Albany greeted new students, as well as welcomed back those returning to campus, with GREAT DANEtopia on Saturday, August 21. The signature event returned to the Entry Plaza after a virtual installment in 2020. The University Libraries' table proved one of the most popular attractions, with over 600 students stopping by to spin the trivia wheel, collect subject librarian trading cards, and learn about the Libraries' resources.
Inserted Layout Image
Image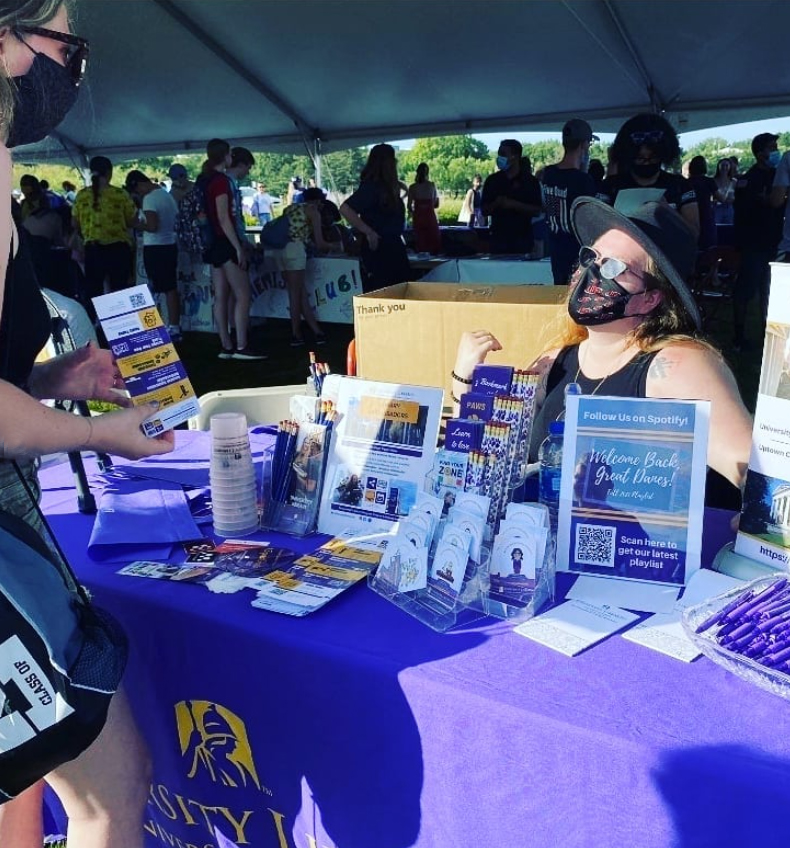 Marketing and Outreach Librarian Amanda Lowe (right) meets with a student at GREAT DANEtopia
Great Dane Welcome @ Your Library
On Monday, August 23, the University Libraries hosted our own welcome event. Students visited a table outside of the University Library, where they could learn about the Libraries' collections, preview services, and win library swag. Amanda Lowe, Marketing and Outreach Librarian, celebrated the return of the tradition. "After a year-long hiatus, I was so thrilled to bring back our in-person welcome back event; it's such an important program for welcoming all new and returning Great Danes to our facilities."
Image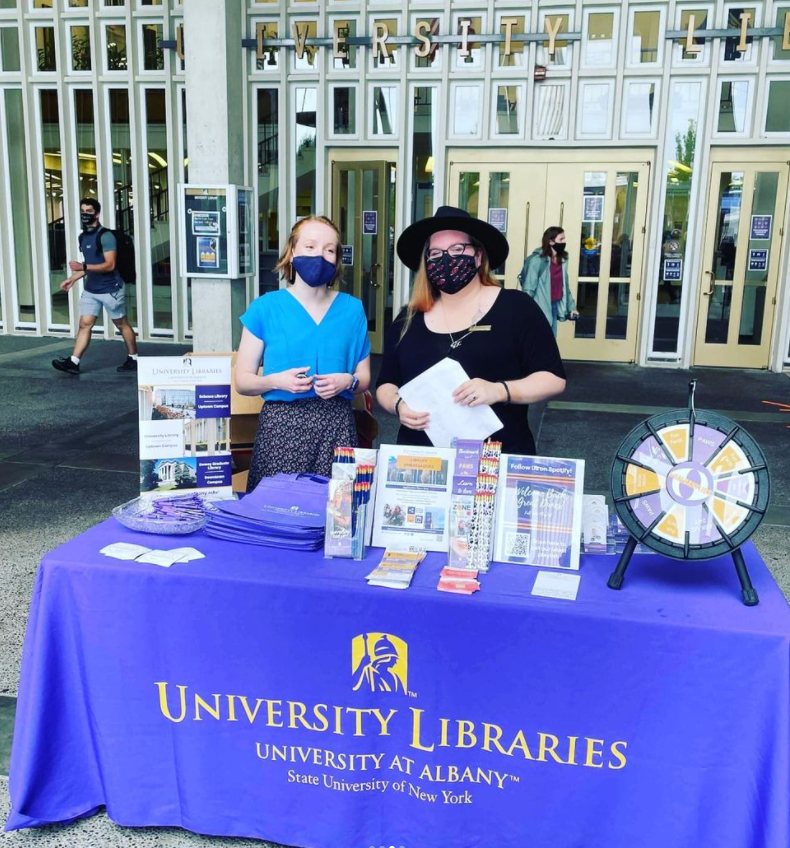 Jill Palmer (left) and Amanda Lowe (right) table in front of the University Library
Academic Resource Fairs
The University Libraries participated in several academic resource fairs in the fall 2021 semester. On September 1, the Libraries participated in a Transfer Connections Luncheon, where new transfer students could get acquainted with campus offices and services; the CURCE Fall Fair took place on September 29, and the University Libraries hosted a table which emphasized what the Libraries could do to enhance students' research skills. Other events include a Graduate Student Resource Fair (August 27) and two Fall Preview Days for prospective students (October 16 and November 7).
Library Development Advisory Board Meeting
The Library Development Advisory Board met virtually on Wednesday, October 20. Dean of University Libraries Rebecca Mugridge provided a report on the state of the University Libraries, with a special focus on the services maintained virtually throughout the COVID-19 pandemic. Members of the board also heard presentations on the Libraries' collection, including the Popular Books Collection and the Accessibility collection, and on initiatives for grants and fundraising inside the Libraries.
Banned Books Week
This year, Banned Books Week ran September 26-October 2. The University Libraries celebrated through social media posts, in-person tabling, and contests. "Banned Books Week was an opportunity for students, including myself, to see the importance of the freedom to read," explained Jill Palmer, the Anna Radkowski-Lee Graduate Assistant. "As students skimmed through the challenged-books list, the majority of responses included, 'I've read this!' which was a consistent reminder of how important this literature is to our academic and personal development."
Inserted Layout Image
Image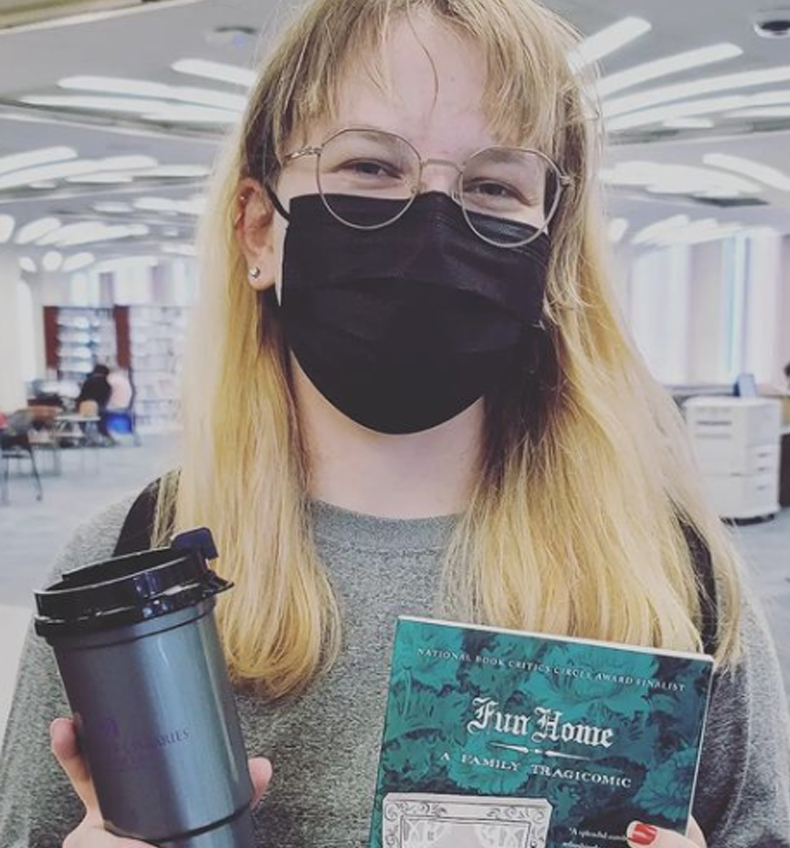 Student Julia Boyne won a Libraries Banned Books prize pack
2-Sentence Horror Story Contest
October brought spooky season to the University Libraries, with the inaugural installment of the 2-Sentence Horror Story Contest. Students, faculty, and staff were invited to submit their scariest stories in just two sentences. The Libraries received over 200 submissions! A panel of judges, volunteers from the University Libraries' faculty, selected the top three prize-winners, as well as a few honorable mentions. Eneida Koltraka, an undergraduate student in the Computer Science program, took home first prize honors—and a Libraries' Fright Night package—with the following story: "'Was it always so dark when you used to play here, mom?' The sound of the well being closed suffocated the echo of his voice."
Inserted Layout Image
Image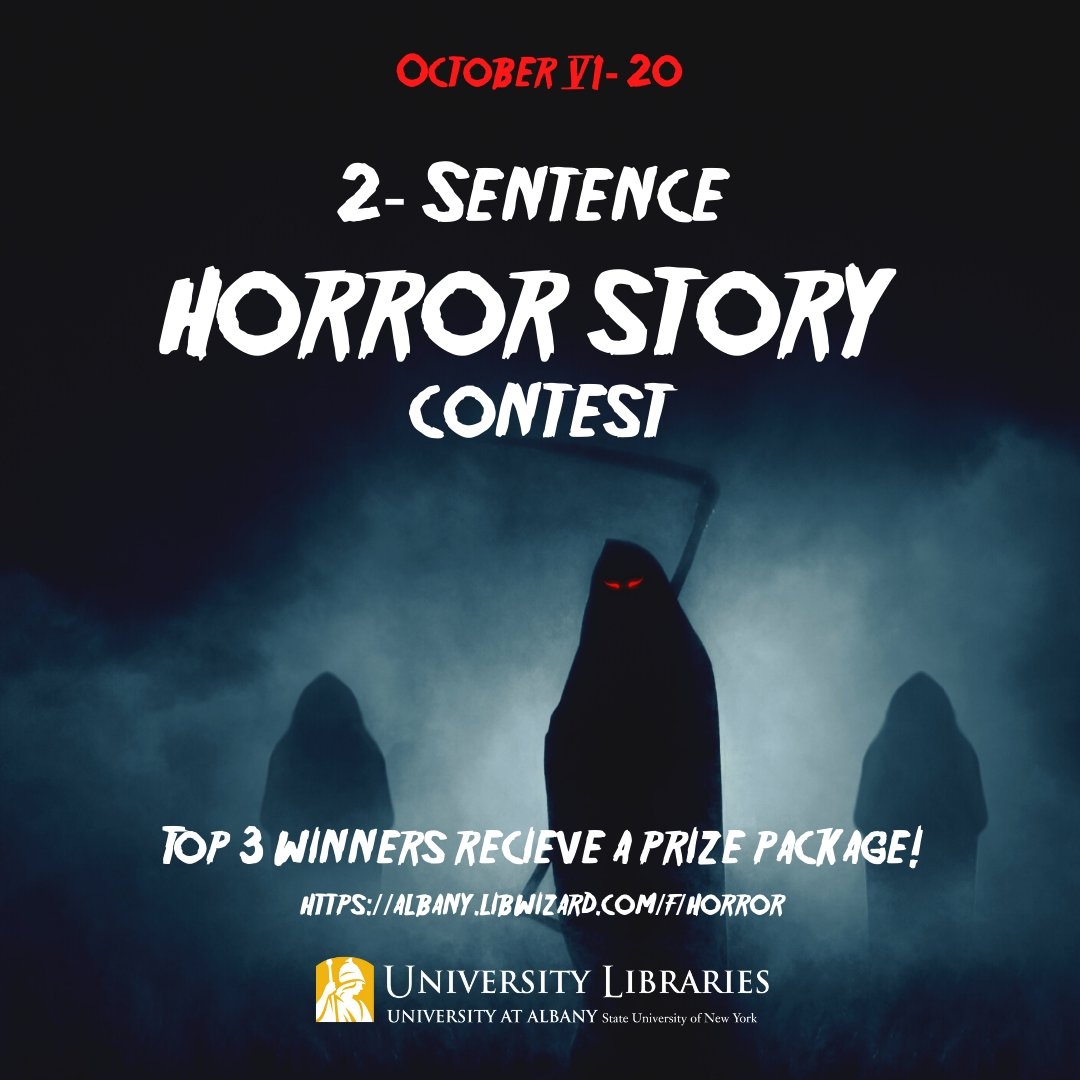 Call for 2-Sentence Horror Story Contest
Open Access Week
Open Access Week took place October 25-31. The Scholarly Communication Team took the lead in promoting the Libraries' open-access initiatives. Events included Getting Cozy with Scholars Archive: From Submission to User Stats and Flexing Your Rights: Making UAlbany's Open Access Policy Work for You. "This annual international event offered us an opportunity to celebrate the University's efforts in providing open access to our scholarship," explained Emily Kilcer, Scholarly Communication Librarian. "It was also an opportunity to encourage conversation about how we can work to ensure that equity is at the center of this work as we commit to making open the default."
Stress Less Month
The University Libraries are pleased to once again offer a hybrid Stress Less experience for final exams. In addition to a virtual guide, the following in-person offerings are available:
University Library
Post-it Positivity Wall, December 1-14
Puzzle Table, December 1-14
Magnet Making Craft, December 7, 3 p.m.- 4 p.m.
Drop-in and Color, December 8 at 2 p.m.
Make Your Own Bookmarks, December 9, 12 p.m.-3 p.m.
Drop-in Game of Apples to Apples, December 13, 1 p.m.-4 p.m.
Dewey Graduate Library
Post-it Positivity Wall, December 1-15
Create a Quiet Study Space, December 1-15
Stay Healthy, December 1-15
DIY Chair Yoga, December 1-15
Dewey Cares Coffee Break, December 7, 11 a.m. -5 p.m.
Dewey Cares Grab Bags, December 7, 11 a.m. -5 p.m.