In November, Dean Rebecca Mugridge spoke to a gathering of librarians at the Sharjah International Library Conference in the United Arab Emirates. In the following interview, she tells us about her experience.
Inserted Layout Image
Image

Image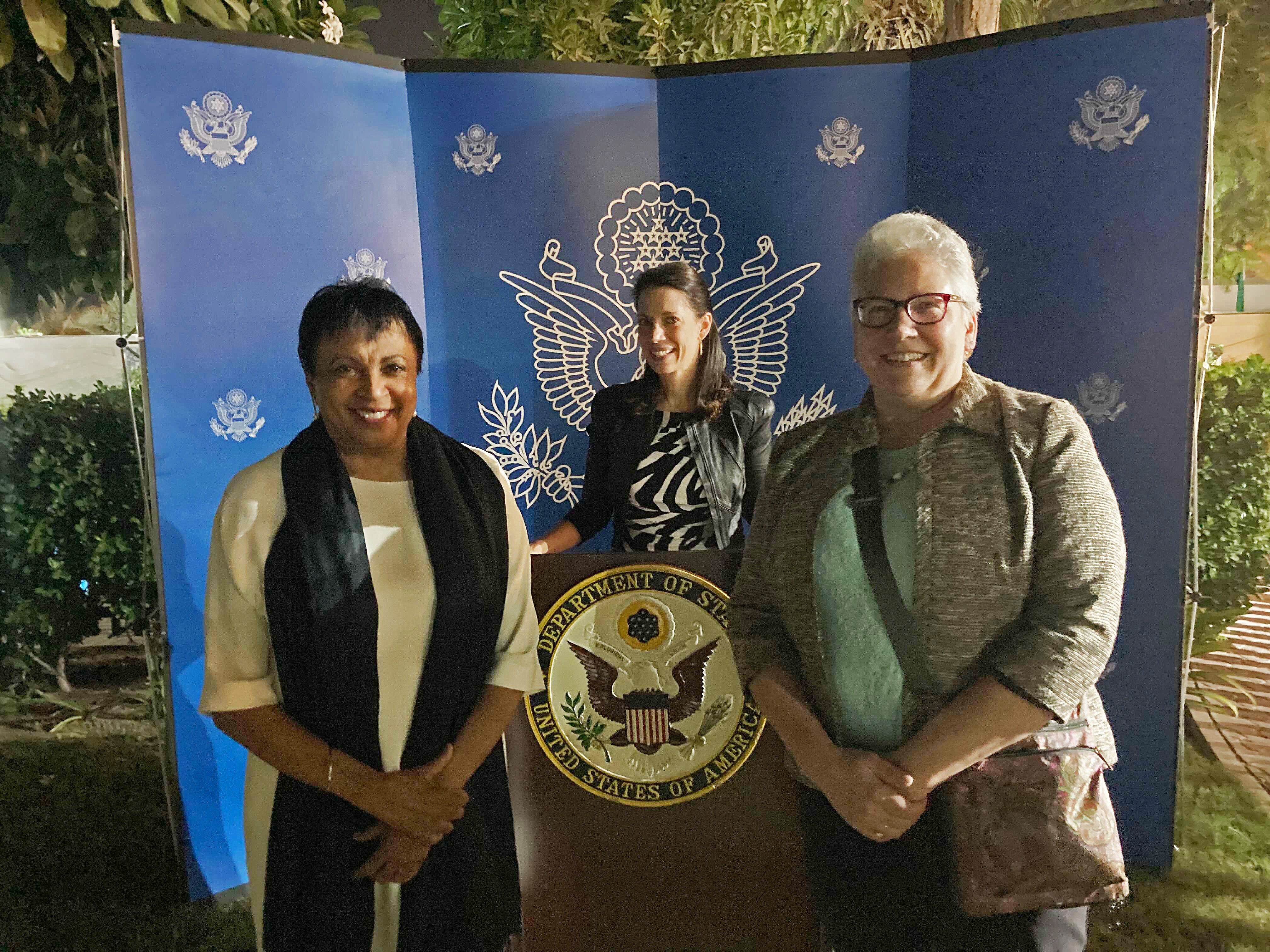 Librarian of Congress Carla Hayden (left), Meghan Gregonis, US Consul General (center), and Rebecca Mugridge (right)
How did this opportunity come about?
The Sharjah International Book Fair is an annual, eleven-day gathering of publishers, booksellers, authors, scholars, and readers that has been going on for 40 years, and for the past eight years, it has co-sponsored a three-day library conference that takes place in the same venue as the book fair. The American Library Association (ALA) is one of two co-sponsors of the event, and they invited me to speak at the conference. (The third co-sponsor was the Combined Book Exhibit, which is a marketing services firm.) The conference attracts attendees from all over the Middle East and North Africa, and speakers came from those regions as well as the United States and Europe.
What was the conference like?
The library conference is a three-day affair, with the first day devoted to preconferences. Since I had just arrived the night before and hadn't signed up for a preconference, I used the morning to adjust to the nine-hour time difference and visited the book fair in the afternoon. The two-day conference included a welcome from Ahmed Al Ameri, the Chairman of the Sharjah Book Authority, and a keynote address by Dr. Carla Hayden, Librarian of Congress. Other speakers from the U.S. included the executive director of ALA, as well as its current and past presidents. I attended several sessions including a presentation on bibliotherapy by a librarian from Jordan, a presentation about LibQual by a librarian from the American University of Sharjah, and two presentations on digitization projects by librarians from Jordan and Iraq. Each day of the library conference included a lavish buffet lunch with a variety of international foods, and there was coffee, tea, and snacks available all day long in the "librarians' lounge."
What was your presentation about?
I was asked to speak on the topic of Telling the Technical Services Story: Communicating Value. ALA recently published a book with this title, and the subject is close to my research interest of assessment. Technical services in libraries includes acquisitions, cataloging and metadata, preservation, electronic resource management, and collection management. I've published and presented on various aspects of assessment of technical services, and this presentation gave me the opportunity to expand my past research to take on the theme of communication, that is, how technical services managers communicate the value and impact of what they do to library, college, and university administrators, as well as the profession at large. My presentation was about 40 minutes long; the audience was very engaged, asking questions during the Q & A period, and staying after to speak one-on-one.
What was it like to present in a foreign country?

All of the presentations were in either English or Arabic. Attendees were provided with headphones, and translators were in every room to translate from English to Arabic or from Arabic to English, depending on the speaker. I was cautioned not to speak too quickly, so I tried to speak more slowly than I usually do and to pause between sentences. Despite this, the translator told me that I should speak even more slowly next time!
Did you do anything outside of the conference?
World Expo 2020 (postponed due to the pandemic) is being hosted by Dubai through March 2022, and Dr. Carla Hayden, U.S. Librarian of Congress, brought Thomas Jefferson's copy of the Quran to be exhibited in the U.S. pavilion. While in the UAE, Dr. Hayden also took part in a meeting of national librarians and gave a keynote address at the library conference. Although I didn't make it to the Expo, I was excited to be invited (along with all of the U.S. speakers) to the U.S. Consul General's residence for a reception in honor of Dr. Hayden, who was also a professor in the library school at the University of Pittsburgh when I was a graduate student there in 1989-1990.
How was the book fair?
In 2021, the Sharjah International Book Fair was proclaimed the largest in the world, with 1,632 publishers from 83 countries exhibiting more than 1.3 million unique titles. I took some time during each day of the conference to walk around the book fair and was amazed at the extent of the exhibits as well as the variety and diversity of the attendees. The book fair also makes a point of reaching out to schools, and every day busloads of children of all ages are brought to the book fair, with special events and activities just for them.
What was traveling during a pandemic like?
This trip was my first since the beginning of the pandemic, so I was a little nervous about flying. However, I'd been vaccinated, and had also recently gotten my booster shot, so I felt safe. During the conference, the UAE had a lower risk assessment than the U.S. (high vs. very high), and in fact its risk assessment has since dropped to low. I flew on Emirates Airlines out of JFK, and they required a negative PCR test prior to flying, and masking was required of all passengers and airlines employees during the flight except when eating or drinking. I didn't observe any of the unruly behavior that has been reported on some domestic flights, thankfully! Almost everyone I came across at the conference and hotel, as well as in taxis, was wearing masks as well. One of the challenges I faced was getting a PCR test prior to my return, and the book fair staff went out of their way to find a clinic where I could get test results back in time for my return flight home. My flights were both non-stop, twelve hours from JFK to Dubai, and 14 hours from Dubai back to JFK, the longest flights I've ever taken. However, the hospitality of the Emirates Airlines employees made the experience a positive one. They do everything they can to make the flight comfortable, and I kept myself busy with books, magazines, and my iPad, which I used to watch a season of a British television show that I had downloaded. Emirates kept us well-fed, with three separate meals. Dubai is one of the major hubs for flights further east and each meal included a vegetarian option that had a distinctly Indian flavor.
Would you do this again?
This was an amazing experience, and I really appreciate being given this chance to share my research with librarians from the Middle East. I would definitely do this again, given the opportunity, but I would prefer that it not be during a pandemic!