Welcome to My Library Story, a new feature in the Library Update newsletter. In each installment, we're reaching out to individuals across campus to tell us about their experiences with libraries. We're excited to kick off the series with Dr. Carol Kim, Provost and Senior Vice President for Academic Affairs.
Welcome, Provost Kim, and thank you for visiting us at the University Library. Can you tell us about your earliest childhood memories of libraries?

My parents immigrated from Korea. Korean was their first language, not English, and they didn't read much to me when I was little. In third grade, though, I had a teacher who, to calm us down after recess each day, would read to us for about half an hour from a book, like Charlie and the Chocolate Factory, for example. She would always choose a book that had at least one other follow-up book or was the first in a series. What that did for me was, "Oh! I want to know what happens! I want to know what happens to Charlie. I want to know what happens to the characters in the other books."
Image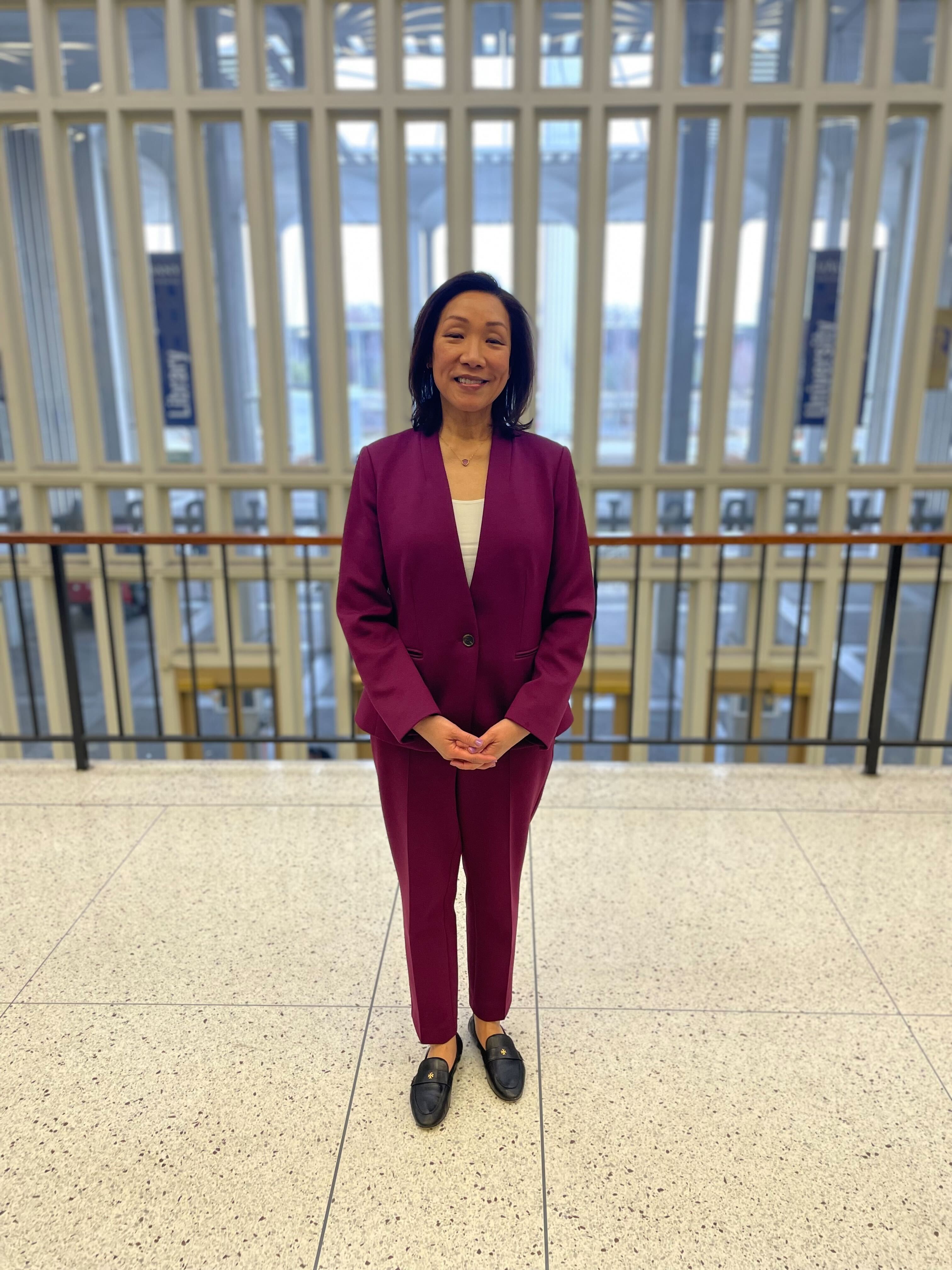 From that exposure, I wanted to go to the school library and find these books. I wanted to go to the county library to get even more books. I became a voracious reader and, growing up in Western Maryland, the library became very important to me as a place to find and explore new worlds.
Books are a source of entertainment for me, but they're also a comfort. And libraries supported my lifelong interest in reading. Now I read a range of books, some of them are more "brain candy", some are just to relax, and others are for learning about different aspects of the world.

In what ways did the libraries support you at Wellesley and Cornell?
From third grade on, libraries have been central to me as a source of information—especially when I was in undergrad. There were really no other options. You couldn't just Google something; you couldn't get information like that from your phone or from your computer. The library was the hub of all knowledge.
Of course, I would go to the library to get resources for my classes or for the papers I had to write, but the libraries also had areas where group work could be done. It was a great place to meet up with friends or to work with classmates to build our projects.
Both Wellesley and Cornell had a number of libraries, but the ones I visited just depended on what I needed for that day. If I needed a quiet place to study, or if I had a test coming up, or if I was writing a paper and needed to focus, then I would choose one particular library. If I needed resources for the science classes, then I'd visit the science library. If I needed to study with other people, that's fine because they had group rooms. Libraries have just been really pivotal for my educational process and experience.

"The students on our campus should think about the library as a central resource."
Did your library needs change as you started working on the doctorate?
It was still the same, really. Like with computers, we had a computer lab when I was in undergrad, but there was no internet. Then as a doctoral student, it was the early days of public internet. E-mail wasn't widely accessible and used by everyone. It wasn't until I was a postdoc at Oregon State that I could e-mail people to obtain information so the library was the central place for me both as an undergrad and graduate student.
How do you envision our Libraries supporting UAlbany students and faculty? What do you want to see from the Libraries here?
I really do think the University Libraries should be central. So when people want to know about Albany, the Capital Region, all the resources in the area, they should come to their public university's library. The students on our campus should think about the library as a central resource.
Now, to draw students to UAlbany, you can think about the AI initiative. The University Libraries should be central to educating our campus community, but also the greater community, about what AI is, why we're launching this initiative, and how important it is. You know it's not just going to be engineering and the STEM areas for AI, but it's AI plus X. It's all departments and disciplines.
AI is a big buzzword now. It's everywhere. But do people really understand what it is or how it's being used? What about how it can be used in the future? Libraries can educate our community partners. Libraries can help them to learn what AI is and explain why we think it is not just important to contribute to the body of knowledge, but also to the success of our students. AI will give them a competitive edge for a job or for graduate school.

"Libraries have just been really pivotal for my educational process and experience."
That's especially important now with AI chat bots producing essays.
Art, too. I know that a lot of people are worried about what AI will do, but that's the whole point of educating our students. It's the same thing with deep fakes, so it's being able to understand and distinguish between real facts and the fake information that is critical.
Which is an information literacy issue, right in the Libraries' wheelhouse.
Absolutely.
Thank you again for your time, Provost Kim. Before you go, just for the record, what was your favorite book as a child?
Oh, I have a number of favorites: A Wrinkle in Time, Roald Dahl books, you know it depends on how old I was. The one that really stuck with me when I was little, though, was From the Mixed-Up Files of Mrs. Basil E. Frankweiler. It was just a fun book and it got me thinking, "Wow! There's this very smart and industrious little girl." That character and the mystery that they got involved in through their adventure - I just thought it was a great book.
I actually read it again with my kids. I think my son was already in college, and my daughter was in high school; they're about seven years apart. We read it together because they asked me why it was my favorite book was when I was little. They hadn't heard of it, and so we read it together. When we finished the book they agreed it was awesome!

Inserted Layout Image
Image
Provost Kim with From the Mixed-Up Files of Mrs. Basil E. Frankweiler