On a recent morning, Karina Ricker was found in the basement of the University Library, sorting through a sampling of poster boards. They display actual government documents, ranging from a timeline of the Underground Railroad to images of national parks, and will soon adorn the library walls.
"It's important to make the collection usable, helpful, and findable," says Ricker. "That's why I'm finding government documents to mount on the wall; it's too easy to walk by it and ignore it."
Ricker, who previously served the University Libraries as a Serials Cataloger, assumed the role of Reference and Government Information Librarian in November 2016. She now oversees an expansive collection, with documents from the Federal Government, New York State Government, the European Union, and the United Nations. The University at Albany is also a selective federal depository library, having received that status in 1964.
Since taking on this role, Ricker has worked diligently to promote the collection and increase her visibility across campus. "My obligation is to make sure my colleagues understand it's a valuable collection," she explains, "and to ensure the public has access to it."
Image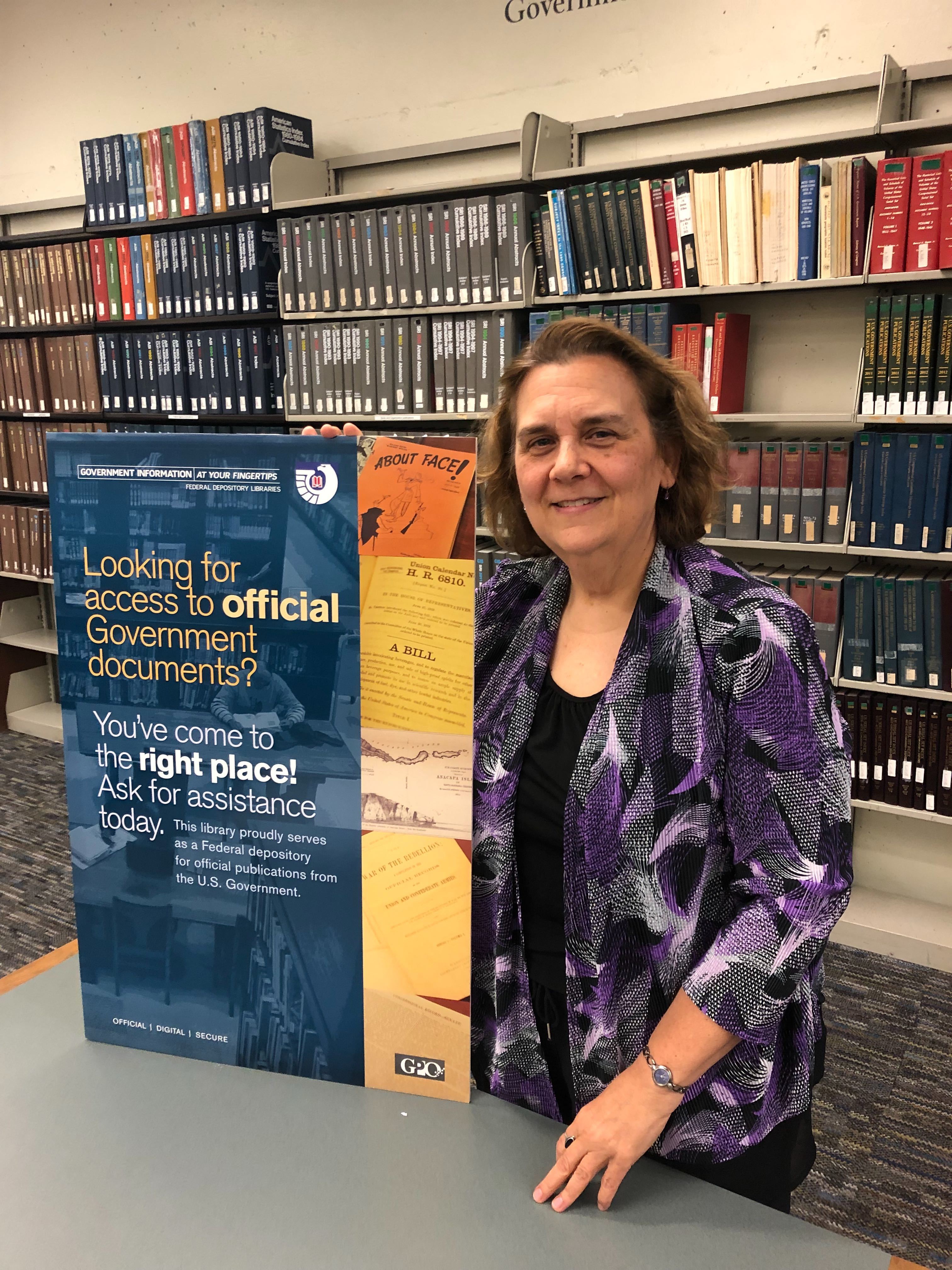 She maintains an active Twitter handle, @UAlbanyGovInfo, where she links directly to government documents. The account connects resources to current events, illustrating the timely usefulness of the collection. Her Transparent Tuesday hashtag has been especially popular and is frequently shared among the campus community.
Ricker also has developed a number of physical displays in the library, mostly based on popular items in the news. Themes have included National Parks Week and the 50th anniversary of the Apollo 11 expedition. The exhibits feature actual government documents pulled from the collection, which she admits makes for a challenge in creating an exciting or appealing display. "A lot of government documents don't look flashy, so I have to search for covers with attractive images," she notes.
That hasn't deterred her yet. Ricker remains invested in sharing timely and important items from the collection. "I always say, 'I didn't know we had so much!'" when asked about finding enough materials to form a display.
What comes next for Ricker and the government information collection? She already has her sights set on providing access to online resources, such as a research guide on women's suffrage in the United States, and providing one-on-one consultations to members of the University at Albany community. She also considers it her mandate to do more instruction, such as iLearn workshops and classroom support.
When asked what she's learned in her time as Reference and Government Information Librarian, she smiled as an answer quickly came to mind.
"That every day is about learning."