By Keerthi Padamata
I am extremely grateful to have been chosen for the Anna Radkowski-Lee Graduate Assistantship. While pursing my master's in Data Science from the Department of Mathematics, my assistantship has given me an opportunity to contribute to the Libraries' Scholarly Communication services.
The assistantship has helped me to gain a deeper understanding of the process and let me work with library faculty to further establish Scholarly Communication services and initiatives in the University Libraries.
Image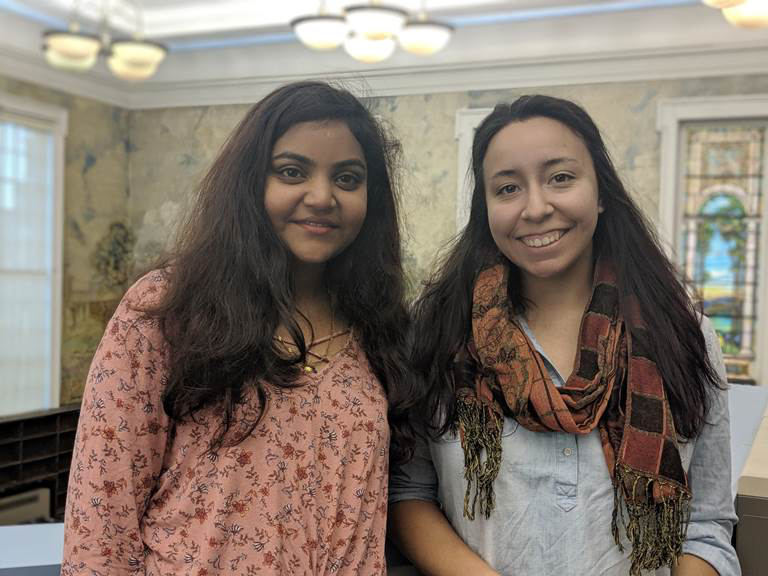 Keerthi Padamata (left) served as the 2019/2020 Anna Radkowski-Lee Graduate Assistant
I was given an opportunity to work on Scholars Archive, open educational resources and data management initiatives.
Scholars Archive is an open access institutional repository where UAlbany faculty, staff, and students can store, preserve and share their research and open course materials. My responsibilities involved providing support to the Scholars Archive Administrator to help investigate ways to improve workflows, create training materials, and assist with projects for ingesting content into the University at Albany's open access digital repository.
The Open Educational Resources (OER) libguide provides information about different tools and resources to help adapt and create an OER. I collaborated with the Libraries' OER liaison to update content for the libguide and help with other OER initiatives as needed.
Research Data Management provides an opportunity for a researcher to create a plan that will ensure that their data will be organized so that it can be shared with other researchers and archived for long-term preservation. I worked with the Scholarly Communication Librarian to research implementation of open resource data management tools (e.g., DMPTool) and develop a strategy for local application.
I also had a chance to be a part of two Libraries' award selection committees. As a committee member, I helped review nominations based on criteria related to the integrity, quality, and excellence of their contributions to the Libraries and campus community.
Throughout every step of the process, my supervisor (Lindsay Van Berkom, Scholars Archive Administrator), has been a great supporter and adviser. I could always bring her questions and she ensured that everything stayed on track. As I am getting ready to graduate, I cannot thank her, and everyone in the department, enough for the memories.