Join us Tuesday, Feb. 18, as we celebrate the late Toni Morrison, with an exhibit unveiling and reception for the world-renowned novelist, powerful voice of the African-American experience, recipient of the Pulitzer and Nobel prizes, and former Albert Schweitzer Chair in the Humanities at the University at Albany from 1984 to 1989.
10:30 a.m. Tuesday, Feb. 18, 2020
Science Library Atrium
University at Albany, 1400 Washington Avenue,
Albany NY 12222
The event is free and open to the public.
Image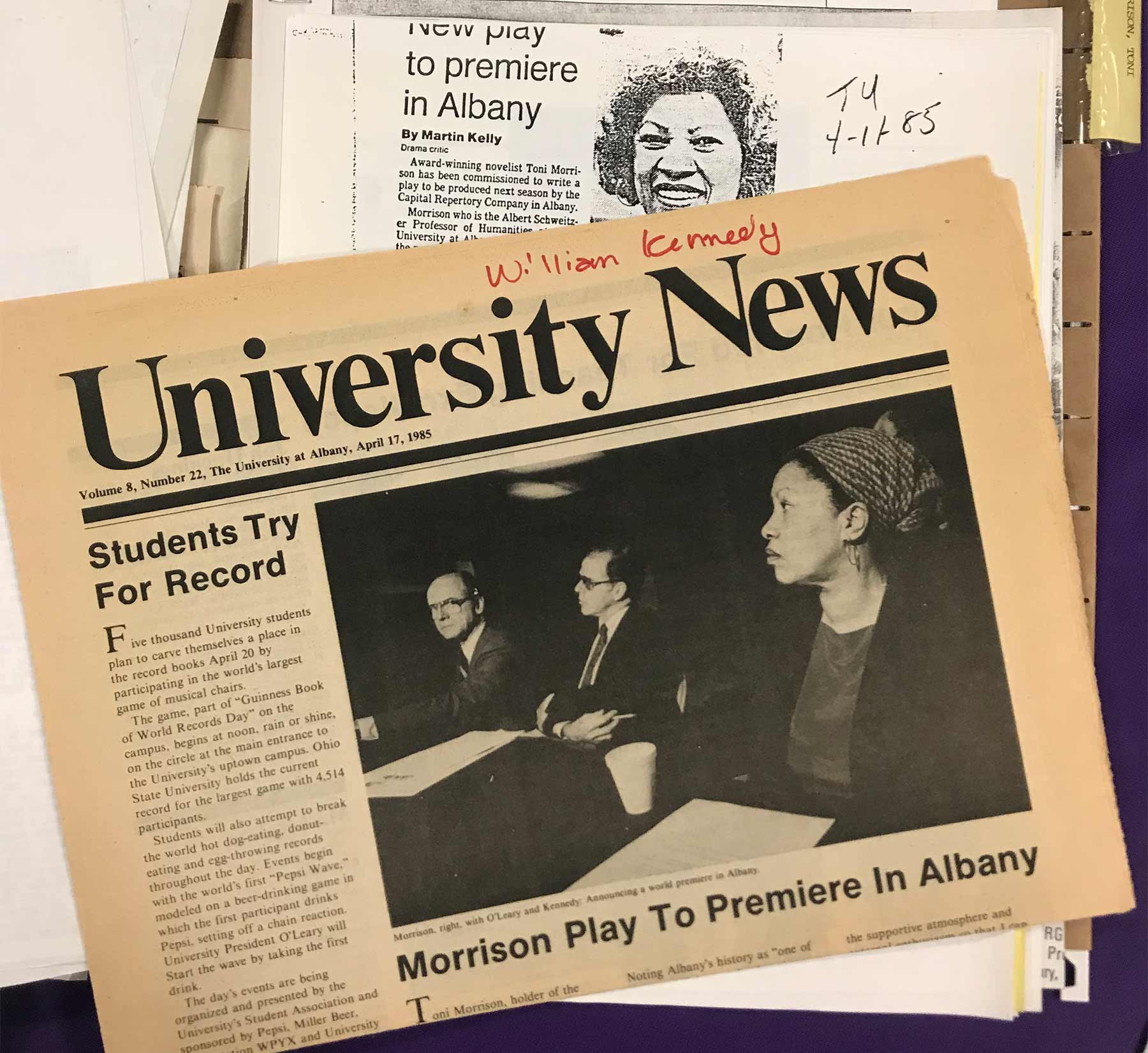 The event will feature brief remarks from UAlbany President Havidán Rodríguez, remembrances from those who worked with her, and dramatic readings of original poems about Morrison by Dr. Leonard A. Slade Jr., professor of Africana Studies at UAlbany, and performer, visual artist and poet D. Colin, a UAlbany alumna.
We also will unveil a new exhibit of papers, photographs and archival items, as well as Morrison's office chair from her time here at UAlbany.
---
Last month, hundreds gathered at Page Hall on the downtown UAlbany campus as the NYS Writers Institute hosted "A Tribute to Toni Morrison" which included a screening of the 2019 documentary "The Pieces I Am" and a panel discussion about her life and legacy.
"Toni Morrison spent five years as a faculty member at the University at Albany in the 1980s, where she forged a special connection to the NYS Writers Institute," said Paul Grondahl, director of the NYS Writers Institute.
The Nobel Prize-winning author died at age 88 on August 5, 2019, in New York City. In the 1980s, she shared office space and collaborated frequently with Writers Institute founder William Kennedy. Morrison addressed a packed audience at UAlbany in 1984, just the second featured writer in the Institute's history. She also wrote parts of Beloved, one of the most acclaimed novels in all of American literature, while at UAlbany, and the news of her Pulitzer Prize in 1988 came with a phone call to the Institute's office.
The event is produced by the NYS Writers Institute at the University at Albany, the M. E. Grenander Department of Special Collections and Archives, the Office of University Advancement, and the Office of Diversity & Inclusion.
For more information, call the NYS Writers Institute at 518-442-5620.