The University at Albany Libraries are actively engaged in efforts to make learning at UAlbany more affordable. One such effort is supporting and promoting the adoption of Open Educational Resources (OERs) in courses across campus. To raise awareness about OERs and their role in student success and retention, the Libraries spearheaded a regional learning event for Open Education Week on Thursday, March 5. UAlbany Libraries joined forces with Educational Technology Services, Online Teaching and Learning, the Campus Bookstore, and University Auxiliary Services to host 39 attendees for the morning sessions.
Image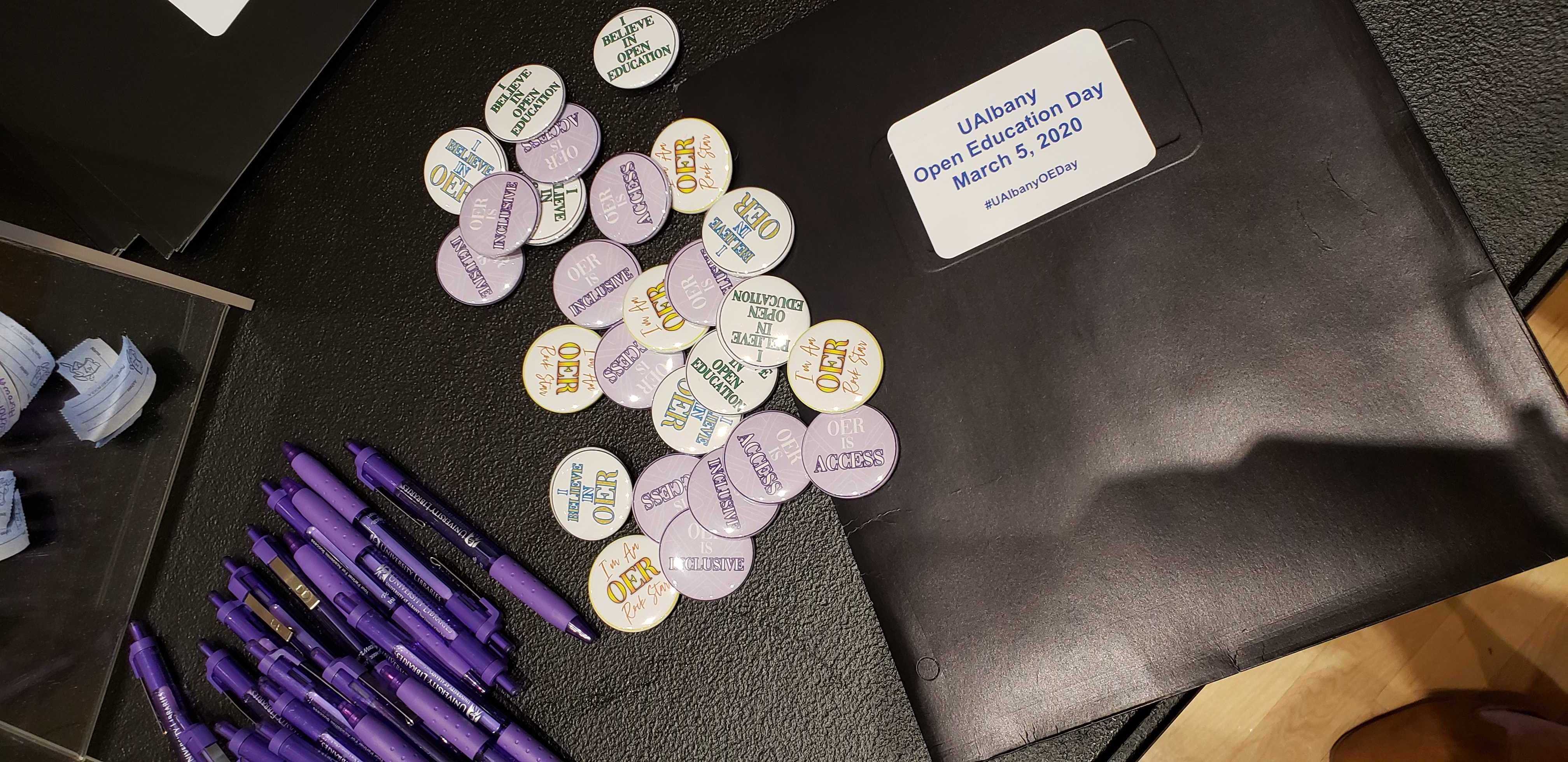 Featured in the morning was keynote speaker Dr. L. William Kazmierczak from Binghamton University, giving the talk: Radically Changing Binghamton Calculus. A mathematics professor, Dr. Kazmierczak and his team created an innovative "flipped" classroom model for general education calculus, which incorporated the use of OER content. The new model facilitated greater engagement and learning amongst students, and from there, greater success and completion rates for courses and degrees.
The second morning session featured a showcase of UAlbany Faculty who are also achieving improved outcomes and benefits for their students, through the use of OERs in lieu of costly textbooks. Dr. Julia F. Hastings, Assistant Professor of the Schools of Public Health and Social Welfare described improved engagement and interest in course materials for her Introduction to Research Methods in Social Welfare class. Dr. Elise Gervais, Lecturer in Biology implemented OERs in General Biology: Ecology and Physiology and Principles of Human Disease, and saved students hundreds of dollars normally associated with science textbooks. Finally, Dr. Marcus Adams, Assistant Professor in Philosophy covered the humanities by describing the benefits of using only OERs for all the Philosophy courses he teaches: Critical Thinking; Introduction to Logic; and 17th & 18th Century Philosophy.
Library Dean Rebecca Mugridge and Head of Scholarly Communication Catherine Dwyer gave introductions. Sue Brayman gave a demonstration of the Campus Bookstore's new platform that facilitates the requesting of, and enhanced access to, OERs for faculty wishing to make the switch away from costly course materials. The University Libraries revealed its new library guide with resources to help users search for, evaluate, and identify quality OERs. For those ready to dig in to the technology for adapting, remixing and creating OERs, Laura Murray facilitated an afternoon workshop on the Lumen Learning platform.
The increased adoption of Open Educational Resources on campus facilitates first-day access for students to needed course materials. Lower cost course materials lift the barrier to learning that occurs when the student forgoes purchasing textbooks and materials, or delays purchasing them because of affordability issues. The strong attendance for this event shows the interest in OER adoption grows on campus and regionally. We are lucky to have a cross section of campus interests participating in the success of this event, and expect to celebrate Open Education Week as an annual event.