By Karen Kiorpes
Day 1. March 17, 2020: My printer is on the blink, and so am I. I have no extra inks or paper or any clue how to scan and send a document from home. The cat is sitting on my lap (note to self: don't wear black). I am clean, dressed, with real shoes on, writing a list of things I need to get from the Preservation Lab (Post-it notes, yoga mat, various files), including the settings so I can VPN into my PC from home (read: VPN is not a verb).
Image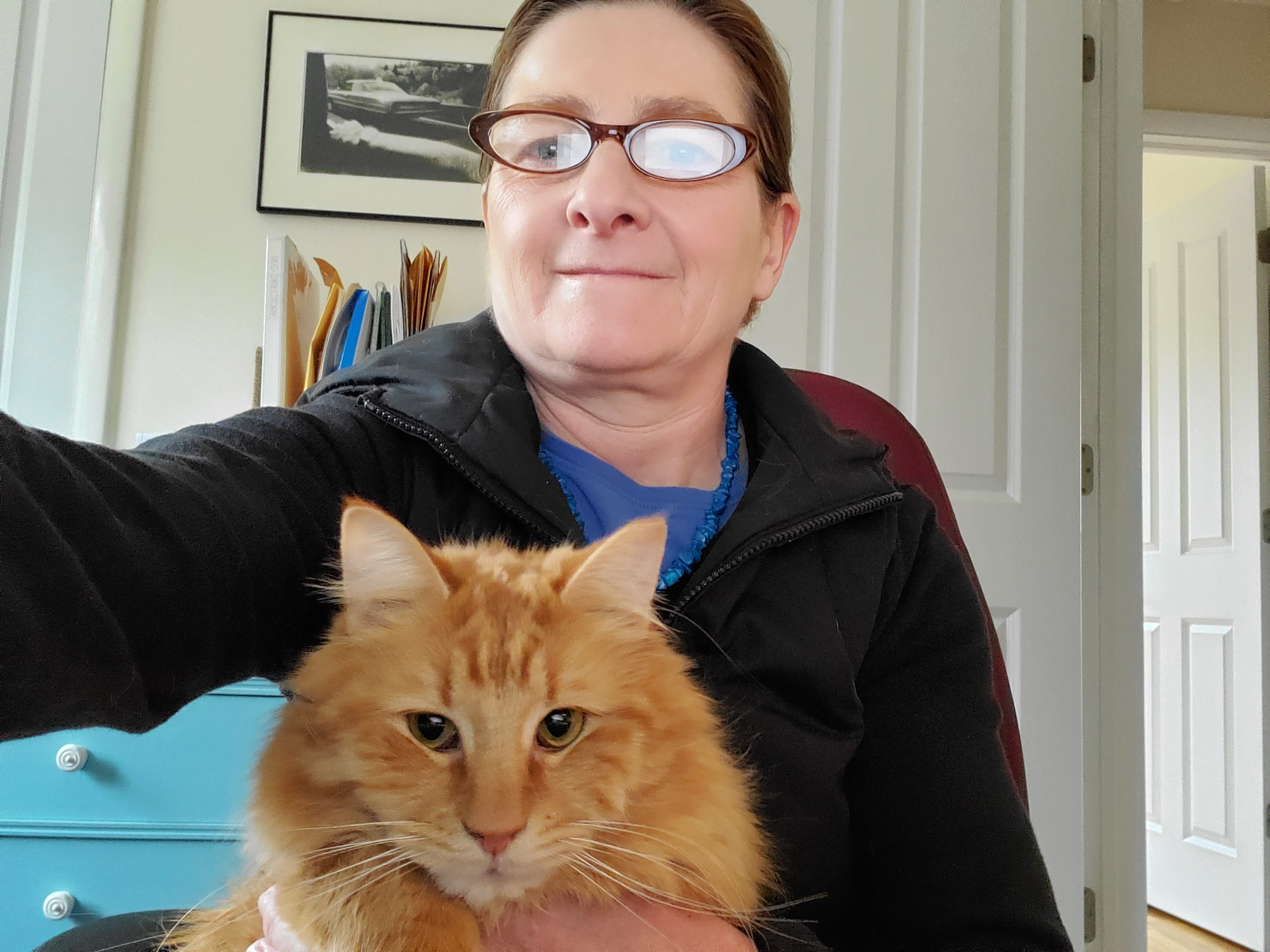 Day 3. The house is being re-sided. BANG. BANG BANG. BANG BANG BANG. This is not good timing. I am trying out Zoom and my hair looks good. Deliveries to the Lab have been located and I guess the stuff will stay in their little boxes, just like the rest of us, until we can return to campus. Hoping it is soon. Finished the Cheetos. The cats have no idea that dinner is not EVERY TIME I walk into the kitchen.
Day 7. Monday is all about email that I've been ignoring since noon on Friday. Decided makeup was a good idea, as is keeping a nice jacket handy to throw over my YMCA t-shirt during Zoom meetings. Fought with some stupid telecommuting pdf form created just to show me how tech stupid I can be sometimes. Delving into reading and research because I can't fix books remotely. I miss the smell of glue. I am covered in cat hair but the love is worth it.
Day 11. Making some progress on committee responsibilities and sent a letter of reference off for a colleague. Took a walk, called the vet to make appointments for checkups for the cats, and added to the grocery list, wondering how long I can go before I have to go to a store. Cancelled flights and hotels for ALA Annual and any other plans I might have to go anywhere or do anything for what might be a long, long time, not sure. Ate all the snacks.
Day 19. Tangled up in knots because my online life has gotten really busy and would spring please arrive because I'm starting to get a bit crazy being stuck inside. Reviewing grants. Asked Cuomo, again, if he would marry me. He must be really busy because he hasn't gotten back to me yet.
Day 34. Time is slipping by and getting up early means sometime before my first Zoom meeting and at least my hair is brushed. Got my printer/scanner figured out, cleaned it, loaded the inks I've needed since day one, gave AVG more money to clean up my PC. Sheesh. Realized how much I miss Library IT. Well, everybody, I miss work, but not commuting during rush hour. Sherbert now has his own chair, right next to me in the home office. He'd rather be on my keyboard.
Day 46. Dad died. He was old, it was his time, but still I'm feeling so sad and lonely, and the solitude of this strange spring doesn't help. Cheddar cuddled up and we had quarantinis and I apologized to him and told him I'm not lonely as long as I have my cats.
Day 58. More of the same, lots of online everything and now the academic year is pulling to a close with its attendant last minute meetings and finalizing grants and reports of committees due and students that I miss that are graduating and I've settling into this work from home thing trying to be all mellow about it and my hair color is fading fast and somehow I just don't care what's on my feet and I do need a shower, maybe tomorrow, not sure, and when in heaven's name will the gym open??? Flattening the curve = fattening my curves.
Day 93. Summer. It's summer! What have I been doing for 93 days??? I now have a nice assortment of masks and bandanas to match my mood and outfits and I'm getting out a bit more but I'm wary and finally there is TP and hand sanitizer and couscous and flour in the stores and things are starting to feel "normal" again, except now after so much time alone I think I've turned into my Aunt Lennie. Working from home is going smoothly and my house, after all this time, is really clean. Except for cat hair.
Day 116. I miss work, I miss my colleagues, I miss nice clothes and pretty shoes and a sense of purpose but I'm grateful to still be healthy and today is my birthday and I've never been so happy about a birthday since I was a kid. So I close my eyes and say to myself tomorrow is email Monday and all is as it should be, for now. And I need a new yoga mat, someone shredded it.