Dewey Library Welcome Back Event
The Dewey Graduate Library held its twice annual Welcome Back Event on February 4. The pop-up table, held just outside the Husted Café, reached over 100 students, faculty, and staff members. The event allows the Downtown Campus community to connect with library faculty, resources, and services.
"The Dewey Welcome Back event is a unique opportunity for us to engage with our student community," explained Amanda Ruschak, Marketing Student Assistant for the Dewey Library. "Not only does it provide us the chance to connect our students with the resources that can help them have a successful semester, but it also gives us the chance to educate them on the rich history of the Dewey Graduate Library and the place it has in the story of the history of New York."
Image
Darwin Day
On February 12, the University Libraries celebrated Charles Darwin's 211th birthday with an event in the Science Library. Librarians created a display featuring Darwin's work, met with students, and even provided a birthday cake!

According to Kathleen Flynn, Subject Librarian for Natural Sciences, Mathematics and Statistics, and Engineering, "Darwin Day is the perfect occasion for the community to discover and celebrate the naturalist Charles Darwin's research while also enjoying free cake. This past year, dozens of students, faculty, and staff visited the Science Library to view a selection of Darwin's writings, letters, notes, and drawings as well as books discussing his impact on science and society. As some students were relatively unaware of his work, we're excited to continue the tradition in years to come.
Inserted Layout Image
Image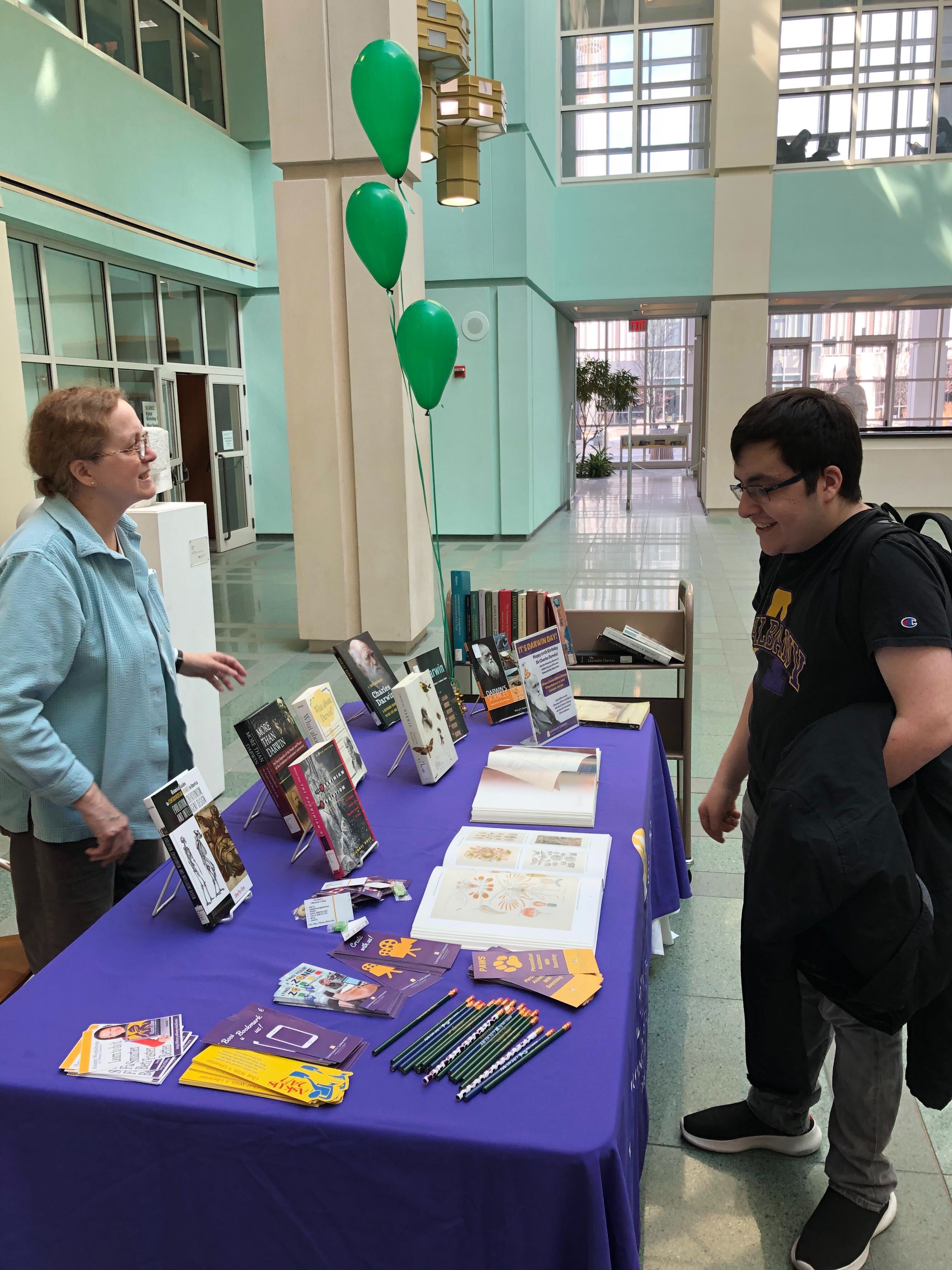 Campus Conversations in Standish
The University Libraries hosted the 11th installment of the Campus Conversations in Standish series this spring. The events featured faculty from three fields newly featured in the program: Business, English, and Psychology. Prior to the first talk, the Libraries launched a new landing page dedicated to Campus Conversations.
The Campus Conversations committee describes the production as "a program designed to showcase faculty research and expertise and to connect members of the UAlbany community in an exchange of ideas and perspectives." The talks are free and open to the public, taking place in the Science Library Standish Room.
Dr. Rita Biswas — Democracy and Exchange Rate Regime Choice in Sub-Saharan Africa
Dr. Glyne Griffith — How the BBC Served West Indian Literature
Dr. John Forsyth — Why It's Hard Being Human: Transforming Human Suffering With Psychological Flexibility (Postponed due to COVID-19)
Inserted Layout Image
Image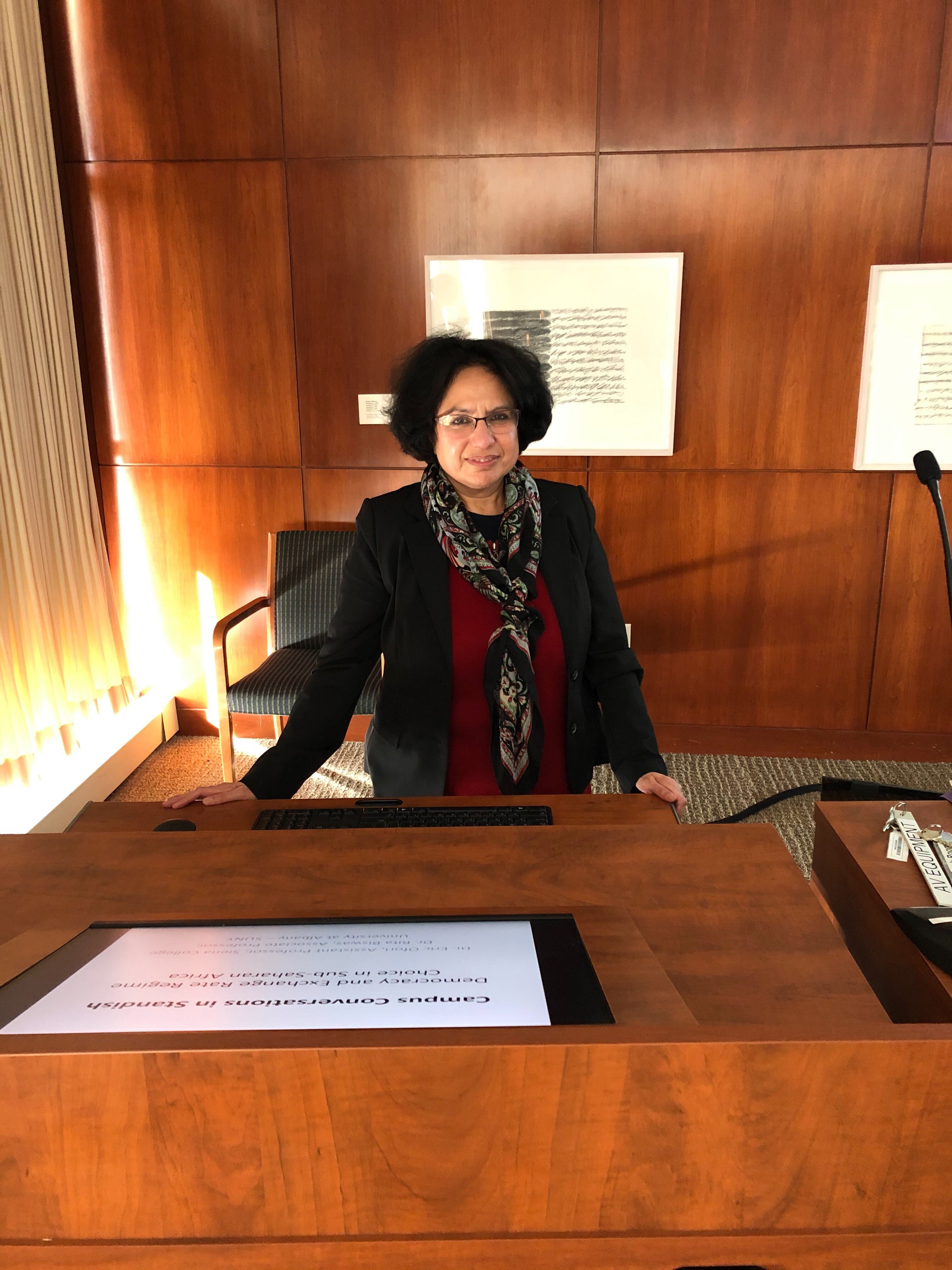 Art + Feminism Wikipedia Edit-a-thon
On March 5, the University Libraries' Information Literacy Department and the University Art Museum co-hosted the third annual Art + Feminism Wikipedia Edit-a-thon. The program strives to correct the gender imbalance on topics of art and feminism on Wikipedia.
"I had a great time at the event," said Lauren Puzier, User Experience Librarian. "Not only was it a great excuse to visit the University Museum and see their current exhibition, but it was so lovely to meet new people and work together on the project, bringing more deserved attention to women artists."
Inserted Layout Image
Image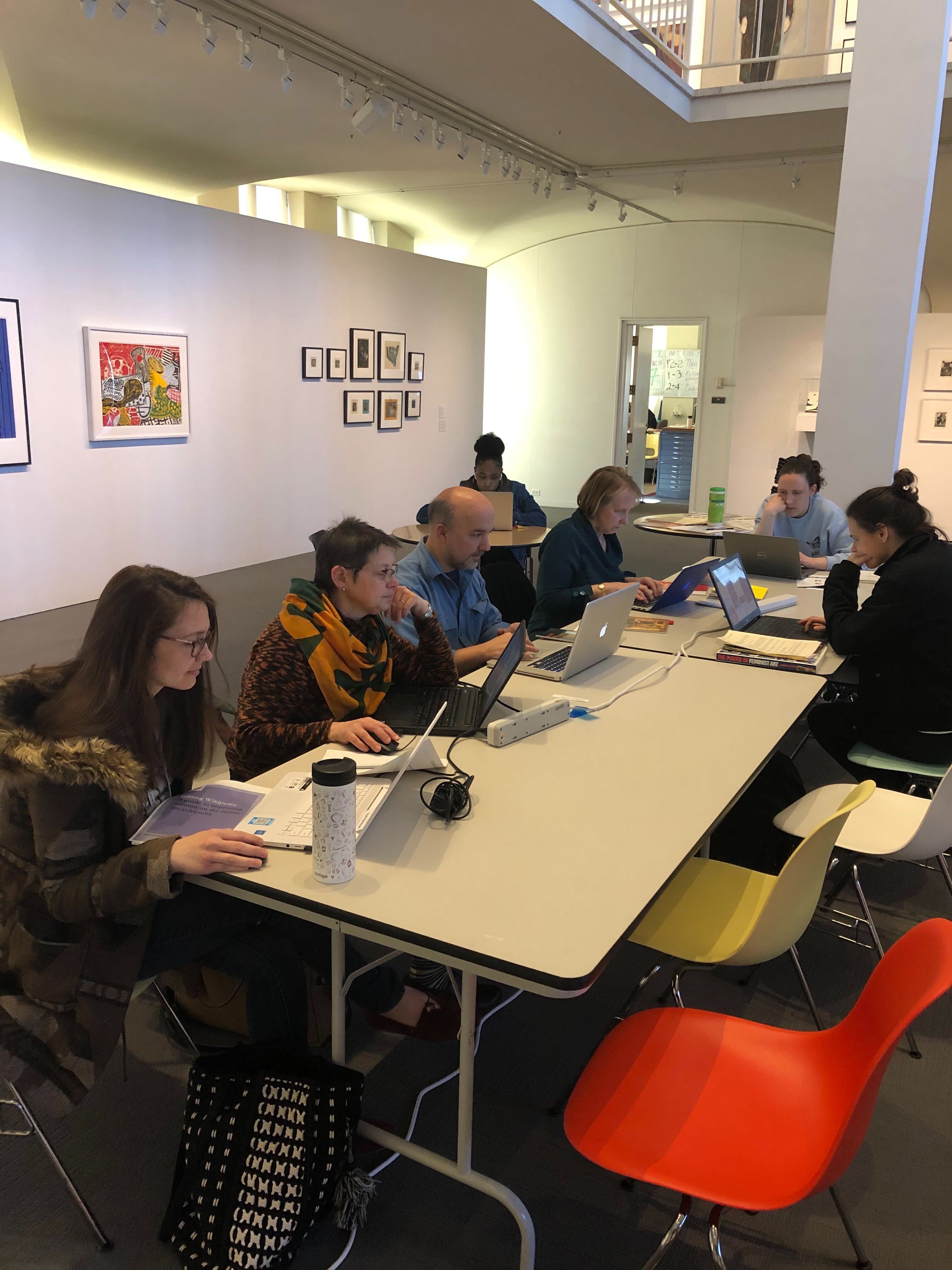 Therapy Dogs and Virtual Stress Less
Therapy dogs returned to the Science Library on March 4. Students took a break from studying for midterms to participate in this popular tradition. While the University transitioned to remote learning in mid-March, the Libraries still held Stress Less Month for final exams.
"Though we are not physically able to provide our usual offerings for Stress Less this semester, we find it imperative in this unusual and, albeit, more than stressful times, to provide some kind of virtual option," notes Amanda Lowe, Marketing and Outreach Librarian. "If we can direct students to healthy outlets for stress, like online puzzles, live zoo cameras. productivity tools, etc - we are going to do that! Mindfulness is still a major key to success!"
The Virtual Stress Less program consists of a Library Guide with links to do-it-yourself activities. The series kicked off with a special surprise: a video featuring students, faculty, and staff with their pets!