The University Libraries are pleased to announce a new endowed fund to support the Dewey Graduate Library. The Henry T. Hettger Library Endowment consists of $1.5 million set aside for overall support of the Dewey Library.
Mr. Hettger, who provided the estate gift, received an MPA from the University at Albany in 1968. After graduating, he worked for President Carter's Affirmative Action Project before becoming a researcher for the National Archives and Records Administration. An avid coin collector, he has authored over 100 articles for Numismatic News, collector newsletters, and Open Archeology, a peer-reviewed journal.
Image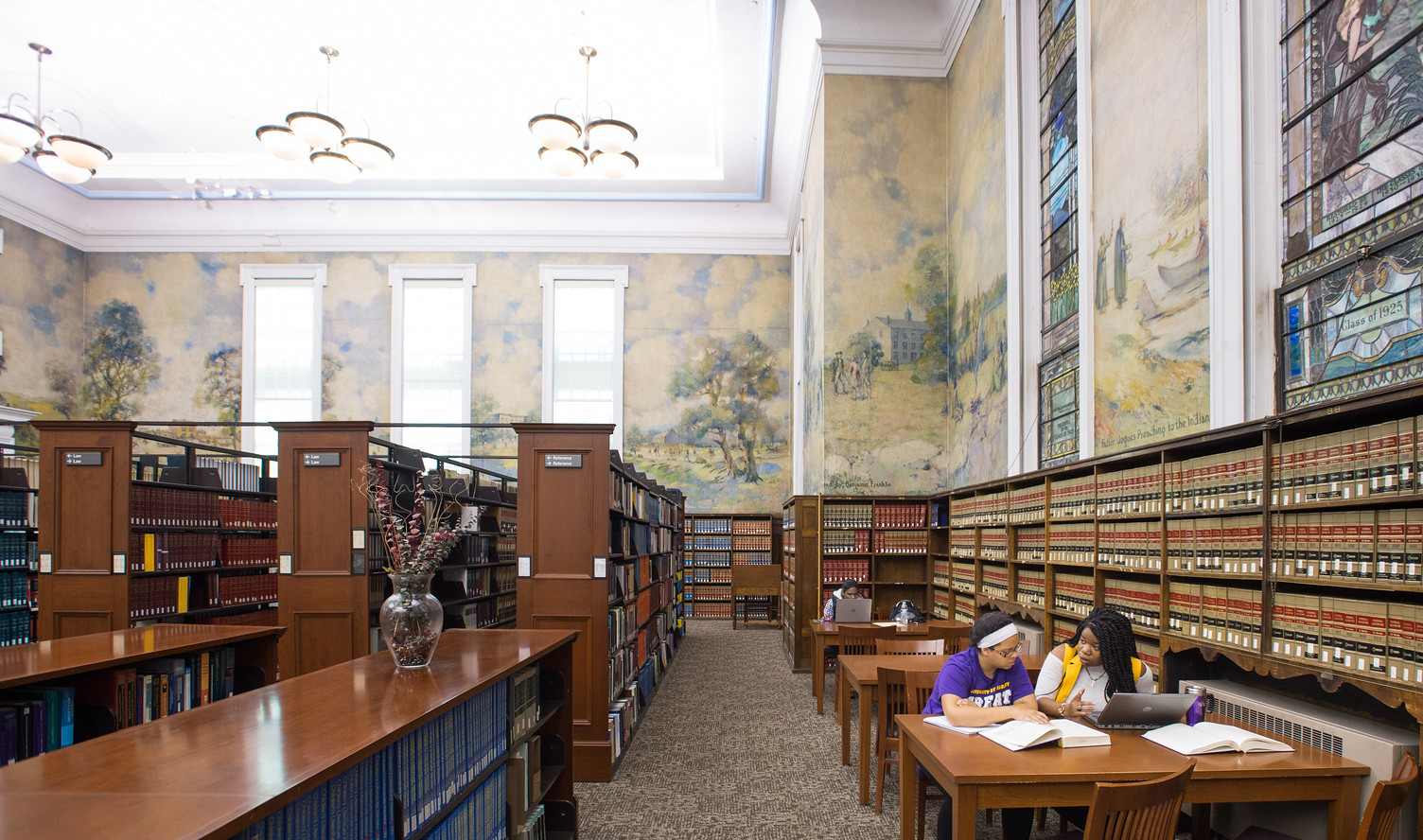 Students working in the Dewey Graduate Library
The Dewey Graduate Library, located in Hawley Hall on the Downtown Campus, opened in 1933. With a collection of more than 135,000 items, the library provides resources for students and faculty in criminal justice, information science, public administration, public policy, political science, and social welfare. Students from across disciplines gravitate towards the Dewey Library, with illustrated stained glass windows (gifts from graduating classes) and WPA-era murals.
"We are beyond grateful for the generous estate gift," says Lindsay Van Berkom, the Coordinator of Dewey Access Services. "Although it is small, Dewey Library is a historical building that holds great value in the history of UAlbany. Maintaining the aesthetics and architecture of the building can be challenging. These funds could help with future endeavors to preserve the historical integrity of the Dewey Graduate Library. The funds could also help with future efforts to provide a library space conducive to study that creatively brings vintage together with contemporary and preserves the sentimental importance while also meeting the needs of library users with current technology, furniture and design."
Students gravitate towards the Dewey Library, with illustrated stained glass windows (gifts from graduating classes) and WPA-era murals.
Mary Johnson, a Senior Major Gift Officer in the Division of Development, draws the connection between philanthropy and academic excellence. "Transformational gifts such as this incredibly generous gift from Mr. Hettger allow us to support the academic pursuits of both our students and faculty alike," she says. "It is through the support of our generous alumni and friends that the University is able to move our mission forward and to provide the additional measure of excellence that is vital to enriching the educational experience for UAlbany students."
The University at Albany has had great success with recent fundraising initiatives. From 2018 to 2020, the This Is Our Time campaign raised $162 million to support campus priorities. Over 34,000 alumni joined in donating.
"The Dewey Library is a hidden gem," Lindsay explains. As soon as people walk in, they fall in love with its beauty and charm. This gift will help ensure that the Dewey Graduate Library continues to be a memorable place for the University at Albany community."
The Libraries thank Mr. Hettger for the generous gift and appreciate his commitment to serving the University at Albany community.