Midyear Involvement Fair
On February 2, the University Libraries participated in the Midyear Involvement Fair. Located in the Lecture Center concourse, the event encourages students to take advantage of the numerous opportunities to get involved on campus. At the Libraries' table, students learned about library resources and services. They also had a chance to sign up to join the Library Ambassadors.
Image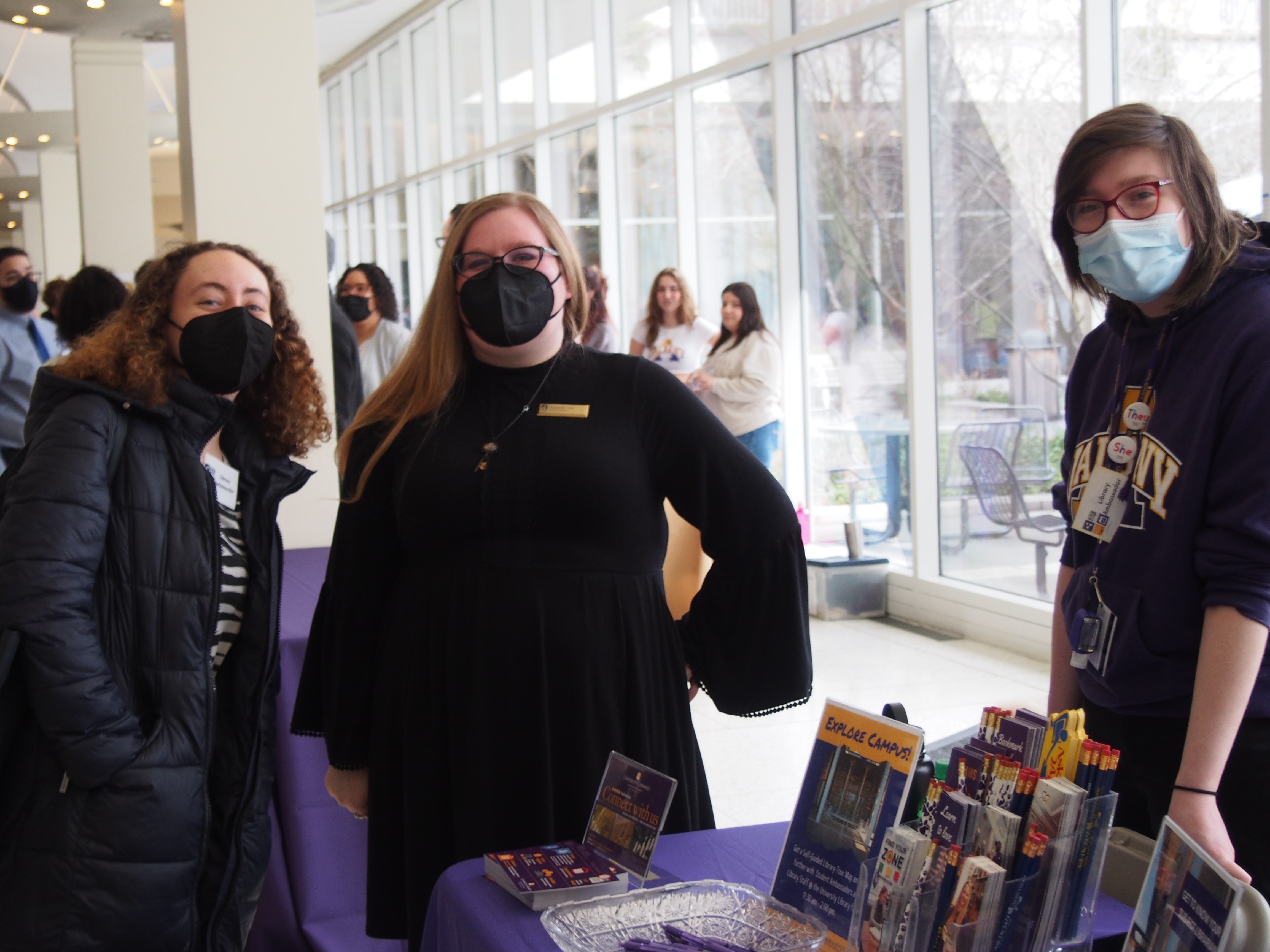 Fiona Hernandez (left), Amanda Lowe (center), and Melody Palmer (right) tabling for the Libraries
RED Bookshelf Book Drive
The University Libraries and the RED Bookshelf teamed up to host a book drive at the University Library January 17-February 7. The RED Bookshelf is a local non-profit organization that works to provide books to children, especially in families who may not have the income to purchase books. The Libraries' campaign was a major success, collecting 319 books.
"Partnering with RED Bookshelf was something I'd been wanting to do for a long while," said Amanda Lowe, Outreach and Marketing Librarian. "Their mission to promote literacy to children through providing free children's books across Albany, guaranteeing access to the benefits that book ownership brings, regardless of income status, is something that is just so wonderful. Kaitlyn Holder, one of our fall Library Ambassadors was instrumental in getting the ball rolling for our partnership. We were happy to collect over 300 book donations to help RED Bookshelf get books into the community."
Inserted Layout Image
Image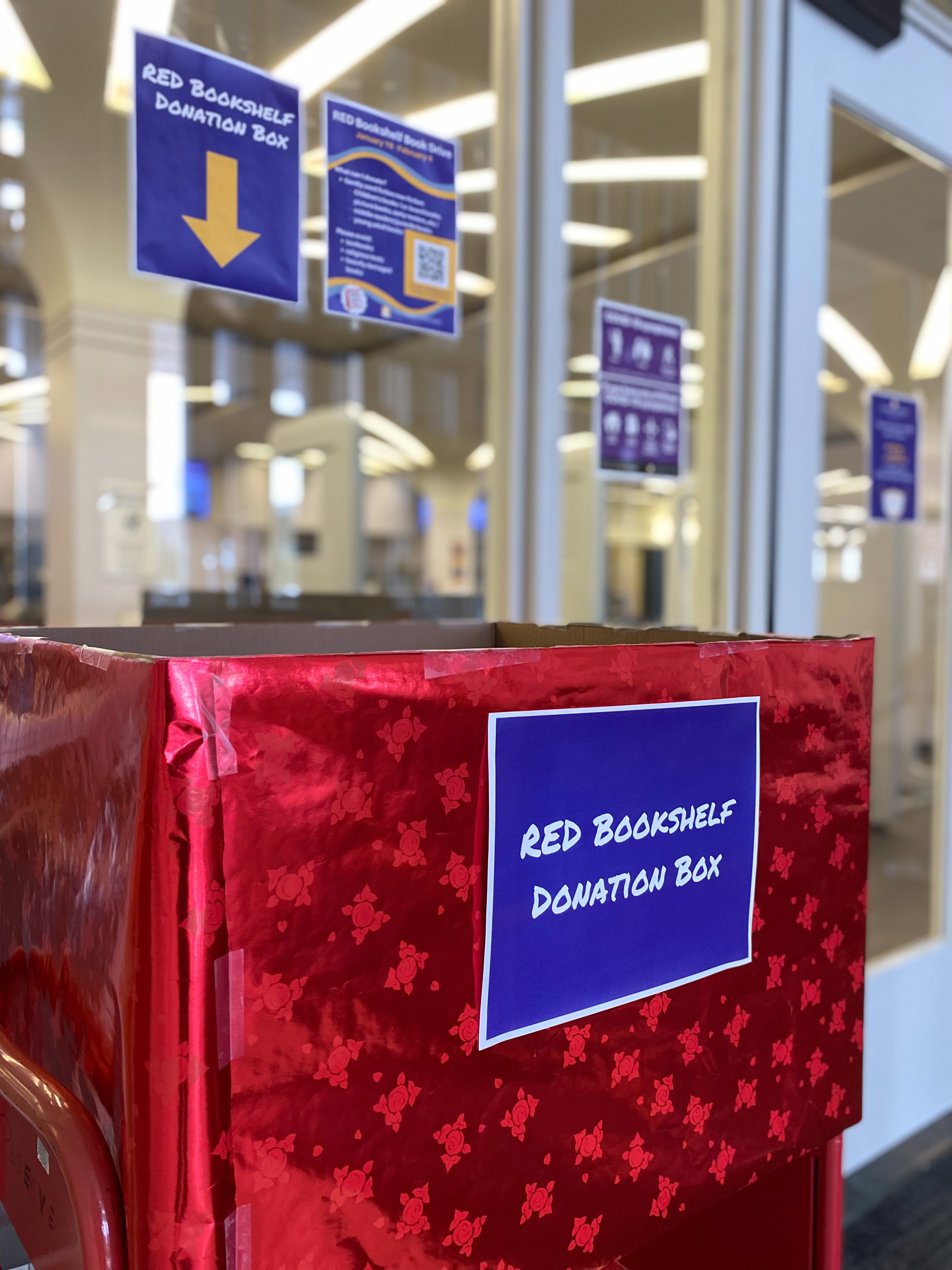 RED Bookshelf donation box
Bad Love Poetry Contest
Following the success of the Libraries' two-sentence horror story contest, we hosted a Bad Love Poetry sequel February 1-13. Students, faculty, and staff were encouraged to submit their worst creations—excessively saccharine and corny.
First Place: Sophia Watts, Undergraduate student in Music and Anthropology
"My Love Makes Me Sick (Literally)"
Second Place: Ellen Abbott, Staff member in the University Libraries
"Lasagna"
Honorable Mention: Bernadette Socha, Staff member in Music and Theatre
"An 'I Love You' Haiku"
We named Sophia our "Bad Love Poet Laureate" and awarded her a book of poetry, candy, and a packed University Libraries Swag Bag.
Inserted Layout Image
Image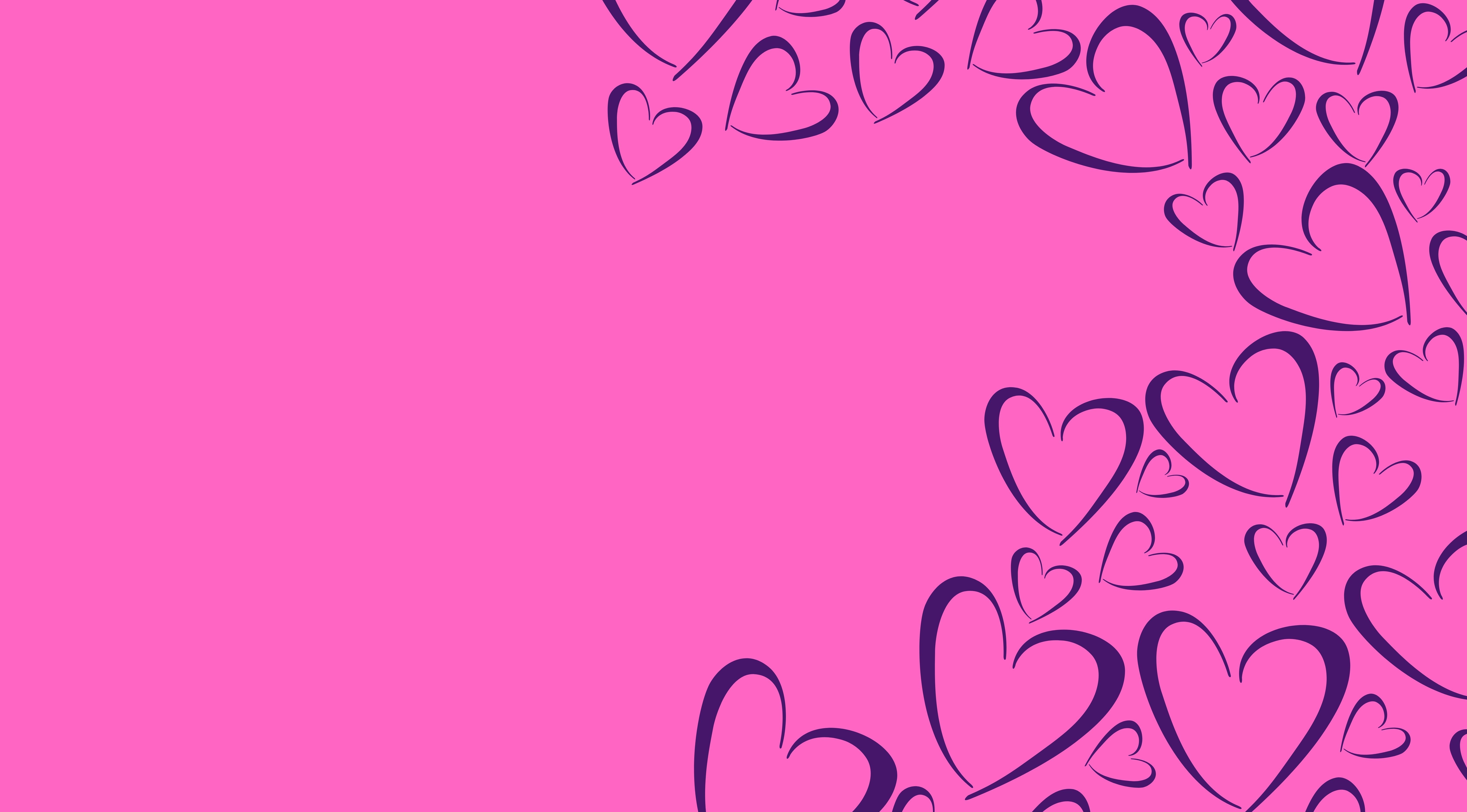 Hearts design used to advertise the contest
Transfer Student Luncheon
On February 16, the University Libraries attended a luncheon in the Transfer Lounge. Recognizing the importance of on-campus study space to transfer students, the Libraries are happy to act as their home-base. This also represented an opportunity to introduce transfer students to library services, as well as for them to connect with the Libraries' transfer-student liaison.
I Love Data Week
The Libraries celebrated I Love Data Week February 14-18. This year's theme was "Data is for everyone." In addition to highlighting the Libraries' Data Services, there were three workshops:
Data Cleaning and Management Using Python
All were well attended. You can access some on YouTube.
Campus Conversations in Standish
The University Libraries were pleased to offer two virtual Campus Conversations in Standish events this spring.
The Campus Conversations committee describes the production as "a program designed to showcase faculty research and expertise and to connect members of the UAlbany community in an exchange of ideas and perspectives." The talks are free and open to the public.
This semester we offered the following presentations:
Dr. Nadieszda Kizenko - Ukraine and Russia: Key Moments in a Long Relationship
Dr. Samantha Friedman - Disaster Preparedness among Older Adults in the U.S., 2017: An Assessment of the Correlates of Vulnerability.
Inserted Layout Image
Image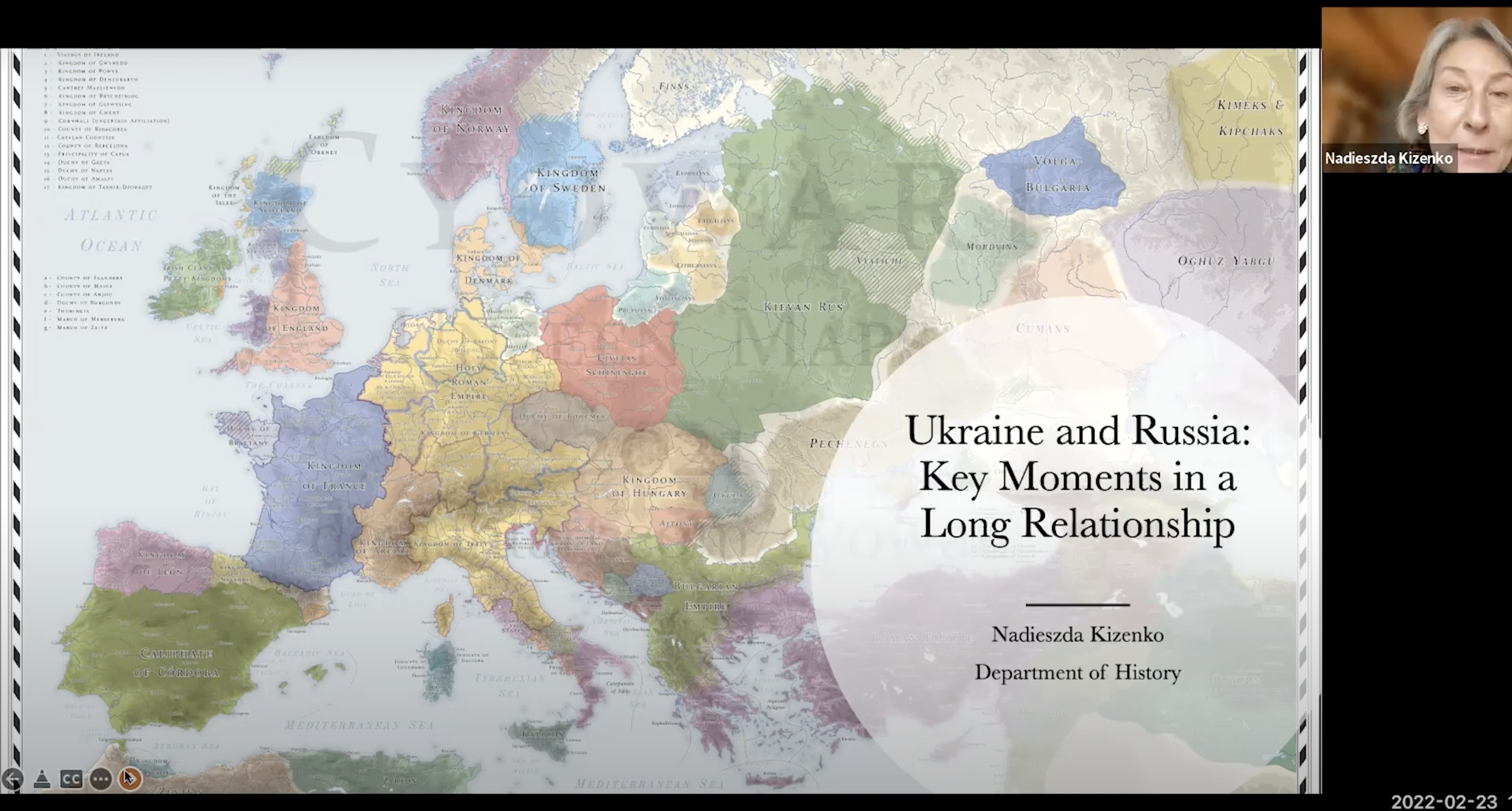 Professor Kizenko presenting alongside a map of Europe
Provost Visits the Libraries
Provost Carol Kim met with University Libraries faculty and staff on March 16. Following a reception with cookies and coffee, the Provost listened to presentations from different units across the Libraries. She then held a question and answer session. Afterwards, the Libraries presented her with some library swag.
Inserted Layout Image
Image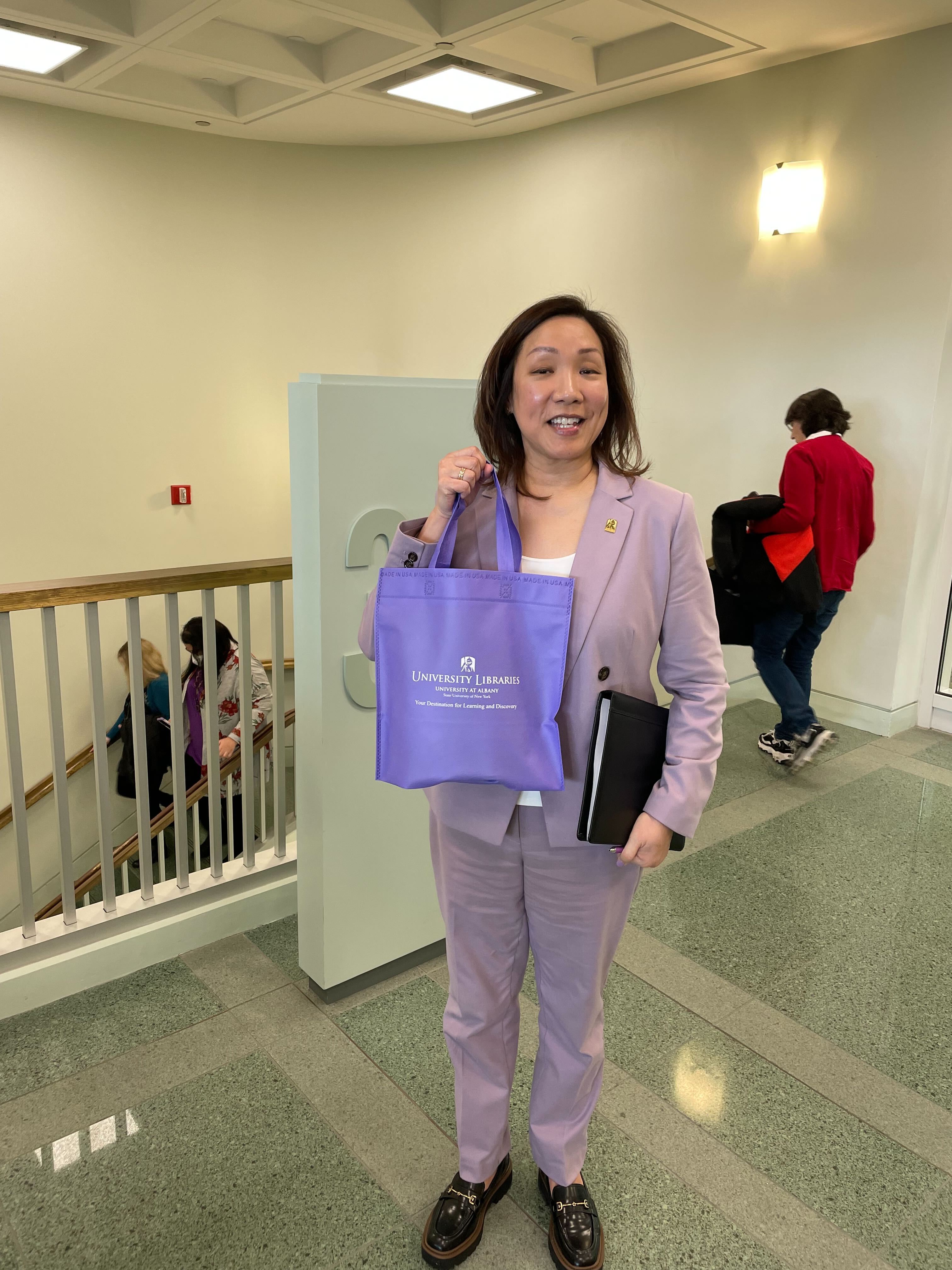 Provost Kim poses with a University Libraries tote bag
Accepted Students Open House
On March 26 and April 10, the Libraries participated in the University's Accepted Students Open House Weekends. This year, Library Ambassadors assisted with the table, meeting accepted students and their families, and introducing them to everything the Libraries have to offer. The first-hand student experience was a hit. Staff also led tours of the University Library.
Inserted Layout Image
Image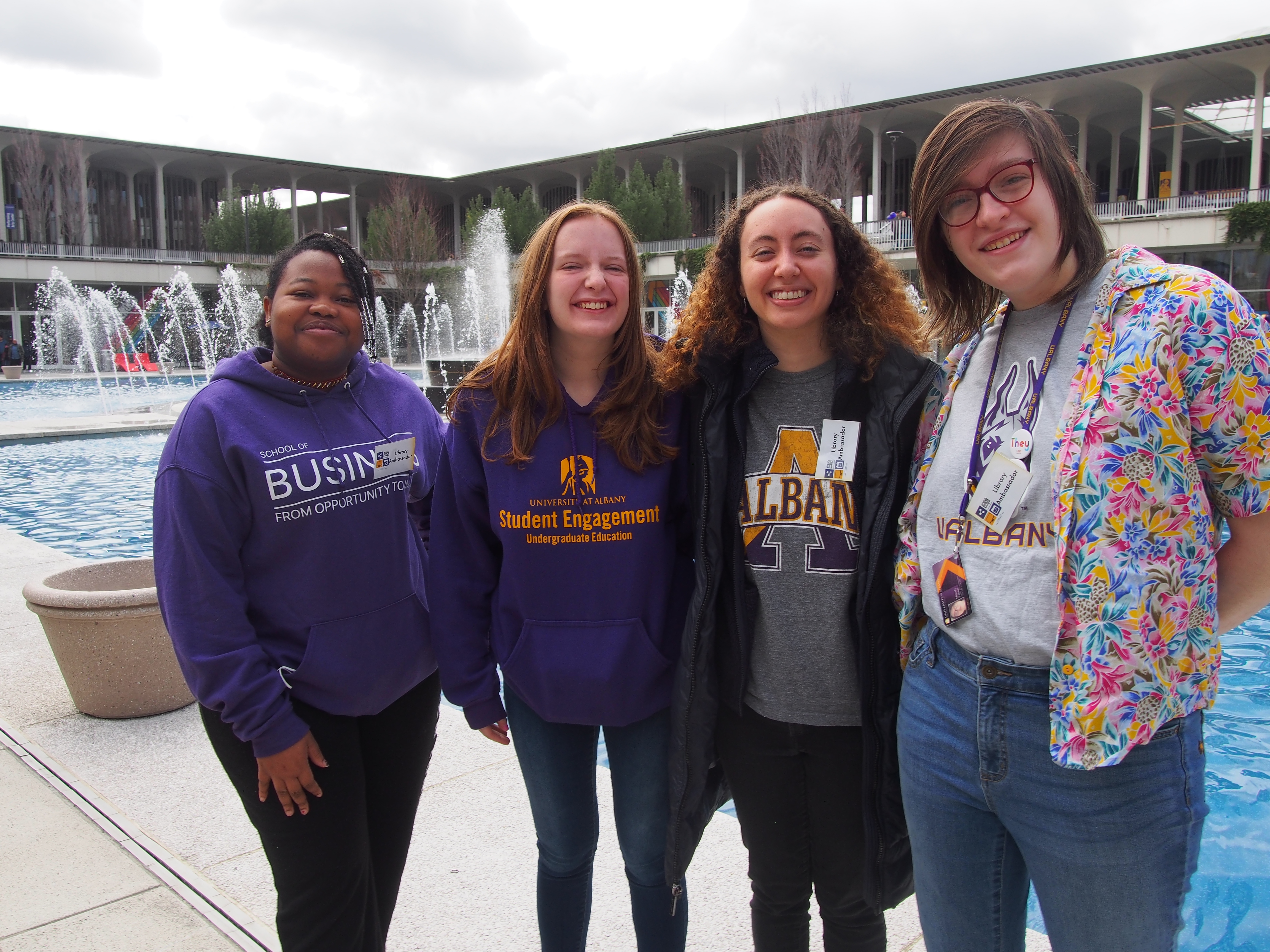 Library Ambassadors volunteer at Accepted Students Open House events
Copyright First Responders Training
The Libraries welcomed the inaugural New York State Copyright First Responders (NYS CFR) Network this spring. The group took a six-week training course February 4-April 15. Emily Kilcer, the program's organizer, explained: "Modeled after the Copyright First Responders at Harvard University, the NYS CFR training program featured a library-centered copyright law curriculum with the goal of building library expertise through a decentralized hub-and-spoke learning community that can provide network-wide support in a trusted environment." More than 70 participants from 13 institutions are now equipped to offer copyright support and education.
Stress Less @ Your Libraries
In-person Stress Less made its long-anticipated return to the Libraries this spring! By popular demand, extended hours also resumed at the University Library. Highlights of Stress Less activities include:
Post-It Positivity Wall
Puzzle Corner
DIY Magnets and Friendship Bracelets
Coloring Table
Bubble Blowing
The Dewey Graduate Library coffee break