The University Libraries take seriously the need for increasing accessibility for our visitors. In her welcome message to the campus community, Dean of Libraries Rebecca Mugridge said, "[The Libraries] will always strive to be welcoming and safe places for all members of our communities and to provide service and access independent of race, sex, sexual orientation, gender identity, religion, disability, age, veteran status, ancestry, national or ethnic origin, or citizenship status."
Following the guidance of the SUNY Electronic and Information Technology (EIT) Accessibility Policy, the Libraries have undertaken a number of efforts to enhance accessibility, both online and in-person. Highlights include:
Image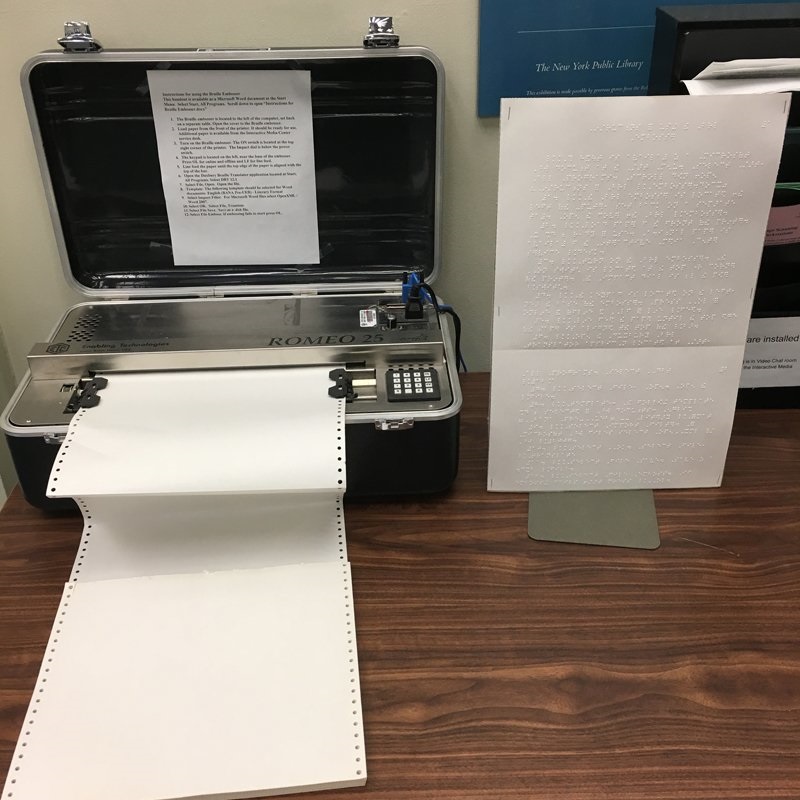 A braille reader located in the University Library
Disability Services Page
The University Libraries Website Development Committee worked to redesign the Services for Persons with Disabilities webpage this summer. The page includes contact information for the Libraries' two Disability Service Coordinators, resources for retrieving items from the collection (including using proxy borrowers), as well as options for reference services and research assistance.
Policy Adjustments
In July 2021, the University Libraries amended the Library Services For Persons With Disabilities policy. "The overall goal," the policy reads, "is to provide users with all-inclusive, fair and equitable access to services, resources and facilities." The framework outlines rights protected by the Libraries for individuals with disabilities, including access to Disability Service Coordinators and assistive technology, as well as provides an avenue through which guests can request materials for purchase.
Facilities and Furniture
The Libraries have wheelchair accessible restrooms, elevators, and doors in all buildings. Additionally, the Libraries have purchased bariatric furniture, seating designed for individuals with mobility impairments. The chairs, scheduled to arrive in September, have higher weight limits and allow for greater movement—helpful for individuals who require frequent breaks. The University Library will host five bariatric chairs, while the Science Library and Dewey Graduate Library will have three and two chairs, respectively.
Assistive Technology
Kurzweil 1000: Is text to speech software that makes printed or electronic text readily available to people who are blind or visually impaired. Provides user with document creation and text editing. Information may be exported as an audio file to be accessible on other computers, MP3 players and other devices.
JAWS screenreader software: Provides voice output from keyboard and mouse commands. JAWS uses an integrated voice synthesizer to output the content of the computer screen to speakers or headphones
Zoom Text magnifier reading software: Enlarges and enhances everything on the computer screen.
Dragon Naturally Speaking voice recognition software: Transcribes spoken or recorded voice commands into keyboard and mouse entry; can create and edit word documents or emails, launch applications, open files and more. (Requires some training to adjust software to individual voice).
Duxbury Braille Translator and Braille Embosser: Provides Braille translation and output of text documents. Attached to PC with JAWS voice output software. Paper is provided.
Audio Recorders: Recorders may be checked-out of the library