Welcome to My Library Story, a recurring feature in the Library Update newsletter. In each installment, we're reaching out to individuals across campus to tell us about their experiences with libraries. We're joined this semester by Dr. Gilbert Valverde, Dean and Vice Provost of the Center for International Education and Global Strategy (CIEGS).
Welcome to the University Library, Dr. Valverde. Can you tell us where you grew up?
That's a difficult question! I grew up in two countries: in the United States, in the state of California outside of the city of Los Angeles, and in Costa Rica, in the capital city of San José.
Image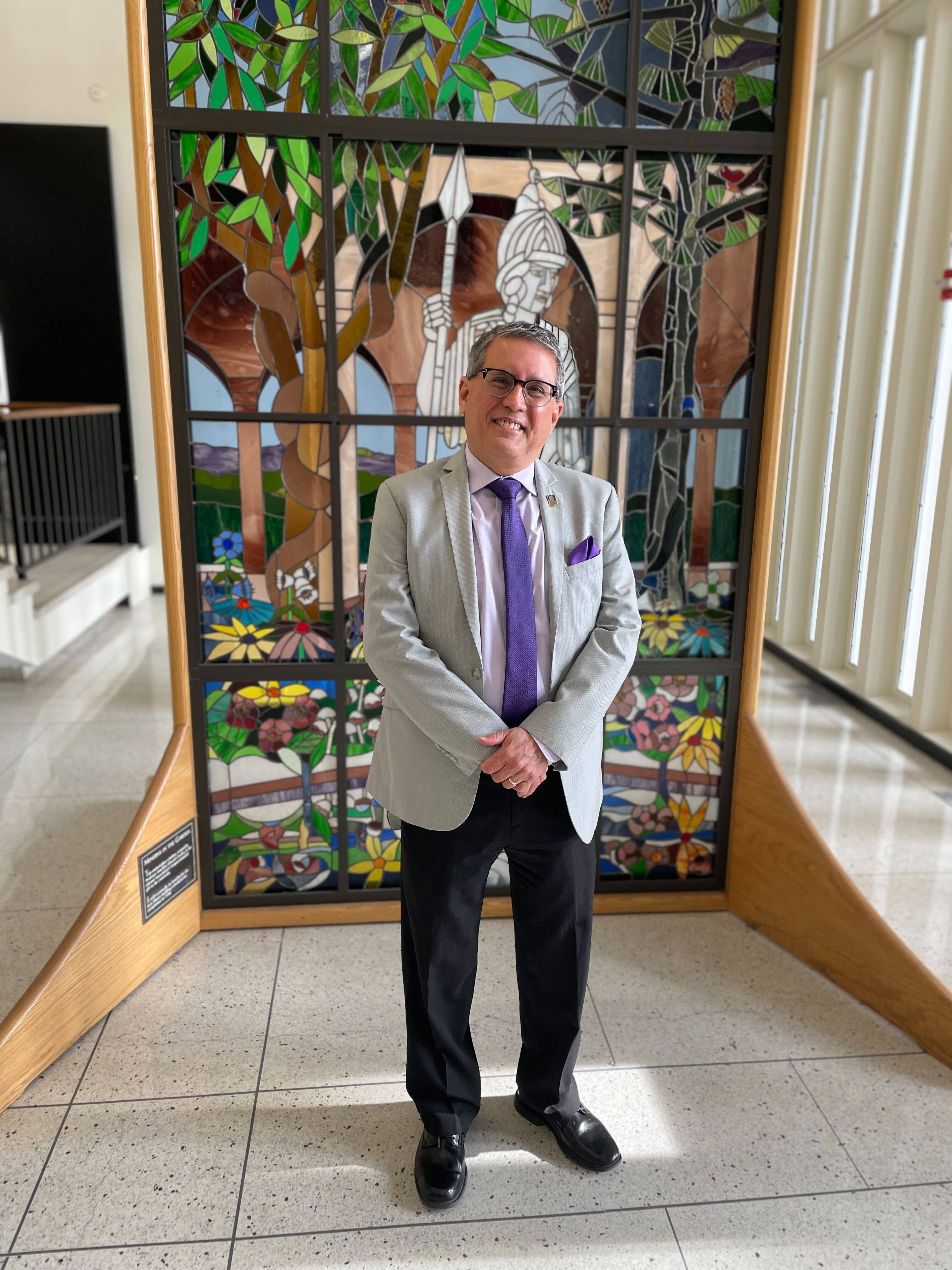 Were you exposed to libraries as a child?
Constantly, constantly. I love libraries! We used the public library in the United States when I lived in California, as well as the school library. Most of the books that my mother and father would read to me, we checked out of the public library. I mean certainly we bought an inordinate amount of books, but I remember certain series as a child which I was interested in, so I would go to the library and I would be proud about picking the next item in this series.
Then when I was in Costa Rica, the U.S. Information Service had a cultural center with a library, and we would go there as much as we could. That doesn't mean we didn't have books in every nook and credit or house that we had purchased, but there were things that we would never consider purchasing. The encyclopedia, for example, is one we never owned; those were things you got at the library. My father was skeptical about the whole business model of selling encyclopedias to homes.
The stereotypical door-to-door salespeople?
Yeah, all of that was sort of fishy to him, especially when it was easy to go to the library.

I also remember we participated in their library programs. You know there would be the summer programs with reading or art activities or whatever they might be. Libraries were someplace we were also allowed to go on our own which was exciting.
That tees up our next question. What are some of your fondest memories of libraries as a child? Are they related to programs?
I don't think we had programs like they exist now. Today there are storytellers and meet the author opportunities, I don't remember those so much as just being allowed to explore the libraries on my own. It's like a treasure hunt when you're a kid and you could find something that you had no idea anyone would write a book about, or that you would be interested in, but there was that sort of joy of discovery. I don't think I've entirely outgrown that, to be completely frank.
I remember some craft-related things, like you would read a book, discuss it, and then you would draw a picture or you build a model or write a play about it. These are all sort of combined in one continuous memory. I don't remember particular incidences, but I remember being engaged and happy.
Are there any staff members that come to mind during these years?
I don't remember anyone particularly, but you have to realize that librarians might have been, outside of teachers, the only other adult-like official I interacted with independently of my parents. And those interactions were always great! I mean sometimes a librarian would scratch her head or his head and wonder, "Why is this kid asking me for this particular item? I might not be grade-level appropriate." But other than that, interacting with them was fun, and I trusted them.
"Without libraries, I would not be Doctor Valverde."
On to some of the academic questions now. In what ways did you use the libraries at the Universidad de Costa Rica or the University of Chicago?
Well, I mean, in Costa Rica buying books for your field was at the time extremely expensive. So it wasn't your first choice to buy everything that was assigned in your class. You would go to the library instead. They had both an excellent National Library and an excellent university library. The university was quite young, it was founded in the 1950s, but it had an excellent research library. It was founded by folks that gave a great deal of emphasis to research. And that building, that library building, is still there! I went there just a year ago and I saw the library and it was exactly as I remembered it. I'm sure there's many more things and many more services than when I was there, but it was always a dependable place. They always kept enough copies for folks to check out, and I suspect there was always close communication between the library and course instructors so they would ensure that they have material for folks.
I did my graduate work at the University of Chicago, and those libraries are magnificent. I spent enormous amount of time in the Regenstein Library and in the Holborn Library, which may be the most modern library I've ever seen. The other was this sort of gothic thing, with you know, huge ceilings and stained-glass windows, your sort of medieval ideal of a library in the middle of Chicago. It was all very special.
For my dissertation research, I relied entirely on the library. The library had a massive collection and it was a UN depository library, which was critical for my topic. I was interested in looking at how the World Bank and the U.S. Agency for International Development allocated funds for educational development in Latin American countries, and I wanted to look at every country over about a 20-year period. The only way I could do that was because all of the original loan paperwork documenting every project of the World Bank and the USAID work was in the library's collection. I would sit there day upon day! I didn't have a laptop at the time, so I had to take notes by hand and transcribe them on my PC when I returned to my apartment. But without that archive, my dissertation would have been impossible.
I remember I had a spot in the library that I was always occupying because I was looking at 20 years or so of documents from two agencies, so the library was the key to everything that I did in in my doctoral studies.

I also had a graduate assistantship while I was a doctoral student. I had to check out books for faculty members, return them, find materials for them. There's a lot of library-based research that I had to help folks work, so I think that led me a little bit to thinking I could do what I decided to do in my doctoral studies. I was familiar with the libraries, I was familiar with the collections, I was familiar with what I could get my hands. Without libraries, I would not be Doctor Valverde.
As an instructor your syllabi contain frequent references to the libraries. You mention Doctor Yu-Hui Chen, the subject specialist for education. You mention library resources. Why is it important to you to integrate libraries into your courses?
Well, I can't imagine a Research One institution or any doctoral program without the library. It seemed inconceivable that someone will graduate from a doctoral program and not have spent time in the library. Maybe it's old fashioned on my part, but I also think that many students--even really good students that have experienced great success—don't realize the resources that libraries can provide. And I know many resources are online now, as are most of my readings since I don't rely on textbooks. I don't think graduate studies should be relying on textbooks, so articles from research journals and other materials at the library are key parts of what I require students to read. I believe they should be able to find these things. I mean I can find them for them, but I feel that that diminishes the experience because there's a certain serendipity that you can experience when you're looking for materials yourself. A professor may assign one article, but this may lead you to other articles that the professor had no idea about. I try to advance that point of view to sort of communicate my enthusiasm for the library and the resources they can provide through my coursework.
I suspect some of my students think this is sort of old-fashioned on the part of the professor, but hopefully they don't view it as too heavy-handed. I'm trying to make the richest educational opportunity I can and incorporating the library resources has always been key to that.
This past academic year we welcomed students from 98 different countries to study at UAlbany. We also have at minimum 27 education abroad programs. What are some of the differences in libraries across the globe that you've encountered?
I've been paying more attention recently to libraries during my travels just because I listened to Interim Dean Hatch talk about his ideas about how we might want to redo this space, so I've been looking at them. I've not been to that many, but often when that people want to introduce you to their campus, the library is one of the stops on that tour.
One thing that I don't think we have in our library here that I see in libraries outside the United States is dedicated sections of the library with seating areas devoted to English language materials for example, or French language materials. I don't think that there's much of that as a researcher when I'm using materials in this library. You know all the languages are intermingled on the stacks, which I don't think is inappropriate and there's nothing wrong with that, but there's a different way of thinking about how people use materials that I think leads to this idea that there is the English language section, that this is the French language room, this is the Arabic room, this is the classical languages area, or whatever that might be. So that seems struck me as different.
Some of the library spaces are like lounges or living rooms right, and they seem to get a lot of traffic. There would be people playing chess or Go or backgammon in the libraries, which I don't remember in my experiences. I remember that as more of an outdoor activity when I when I was a teenager. I think people must also be going to libraries in order to have good Internet good connectivity, and that probably means that there's more talking at the tables than when I was a student.
You know, I visited Ephesus a few weeks ago, and I stood in front of the facade of the library.
Wow! That's incredible.
It is, but it's also strikingly small when you compare it to our library or to the libraries where I spent my graduate studies. When you enter there, and you realize how the scrolls and books were organized, they were precious things that required very careful handling. I think their scarcity was part of what made them valuable. And that was regarded as a very large library, but it's I imagine little bigger than this space. It struck me how much volume of material we have now. I think for all of us it's a greater task to discern what is valuable versus which is invaluable, but that's a great problem to have I think in terms of if I were a librarian.
"I think a very good research library can help the university attract international scholars as well."
Part of the mission of CIEGS is to "engender a campus culture that values global learning and engagement." How can the University Libraries support that?
If you were to ask me what the international students need in terms of libraries, I couldn't answer that question based on empirical information. One way that we might partner is to figure out how we might get good information on what international student expects from a library. My sense is that international students don't come to the United States to spend most of their time in their apartment. A good experience is coming to campus and having interactions in the classroom. It is also part of their visa requirements; they're not allowed to take online courses solely. They have to have immersive courses, so they may have different expectations about how the library might help them. I think that we might need some data, but as you rethink space and services, what you can do is oversample international students so that we understand what their needs might be, or how they're using the library currently.
I'm based in the Science library and I seem to see a lot of international students going there. I don't know if they're what they're doing there, but my suspicion is that they're studying. I don't know what proportion there is relative to domestic or in-state students. That's just something to consider.
How about news and periodicals? Major national information outlets from their countries would be an immense addition to the library. The Libraries are doing many things well right now, like making the New York Times and Wall Street Journal available for us. I would urge the Libraries to consider that kind of deal with the Times of India or with Figaro or maybe Spanish language publications. After all, we have an enormous number of students that speak Spanish. Our international students may seek out these outlets, and they may be paying attention to how we facilitate their retaining links to information from their country. I'm sure they will look at websites and all the other things, but you found a reason to support access to the Wall Street Journal and to the New York Times, so I think it would be similar for the case.
Is it true that libraries are now collecting data sets?
That's right. It's actually part of the conversation of the library of the future, being able to collect and loan data sets similarly to what you would do for a book.
So I would imagine that international data sets like those associated with the big international tests like PISA would be great resources for educational researchers. Or the big census data, a lot of our sociologists and international relations students may have an interest in that. One of the great things about census data is that there's a pretty much an agreed upon international standard on the quality and management aspects of censuses, so those I would imagine are easily or more easily combined or archived than perhaps datasets for which there's not an international standard. I think those would be the invaluable resources for researchers at the university and for researchers outside of the university. I think that a very good research library can help the university attract international scholars as well.