Welcome to My Library Story, a recurring feature in the Library Update newsletter. In each installment, we're reaching out to individuals across campus to tell us about their experiences with libraries. For this special Kickoff edition, we invited Head Football Coach Greg Gattuso to the University Libraries.
Thanks for taking time out of your busy pre-season schedule to visit the University Library, Coach. What are some of your earliest memories of libraries as a child?
I grew up in the city of Pittsburgh, in the South Hills, and my grade school was this little Catholic school, St. Catherine of Siena. Right across the street from it was the public library, so we would take our little trips across the street to the library. I remember I used to love to go to there because of Curious George. I was a little kid and these memories are from 50 years ago, but they're very distinct. I even remember the room we were in, and that was the first thing that drew me in the library: the Curious George stuff and all the fun books.
Image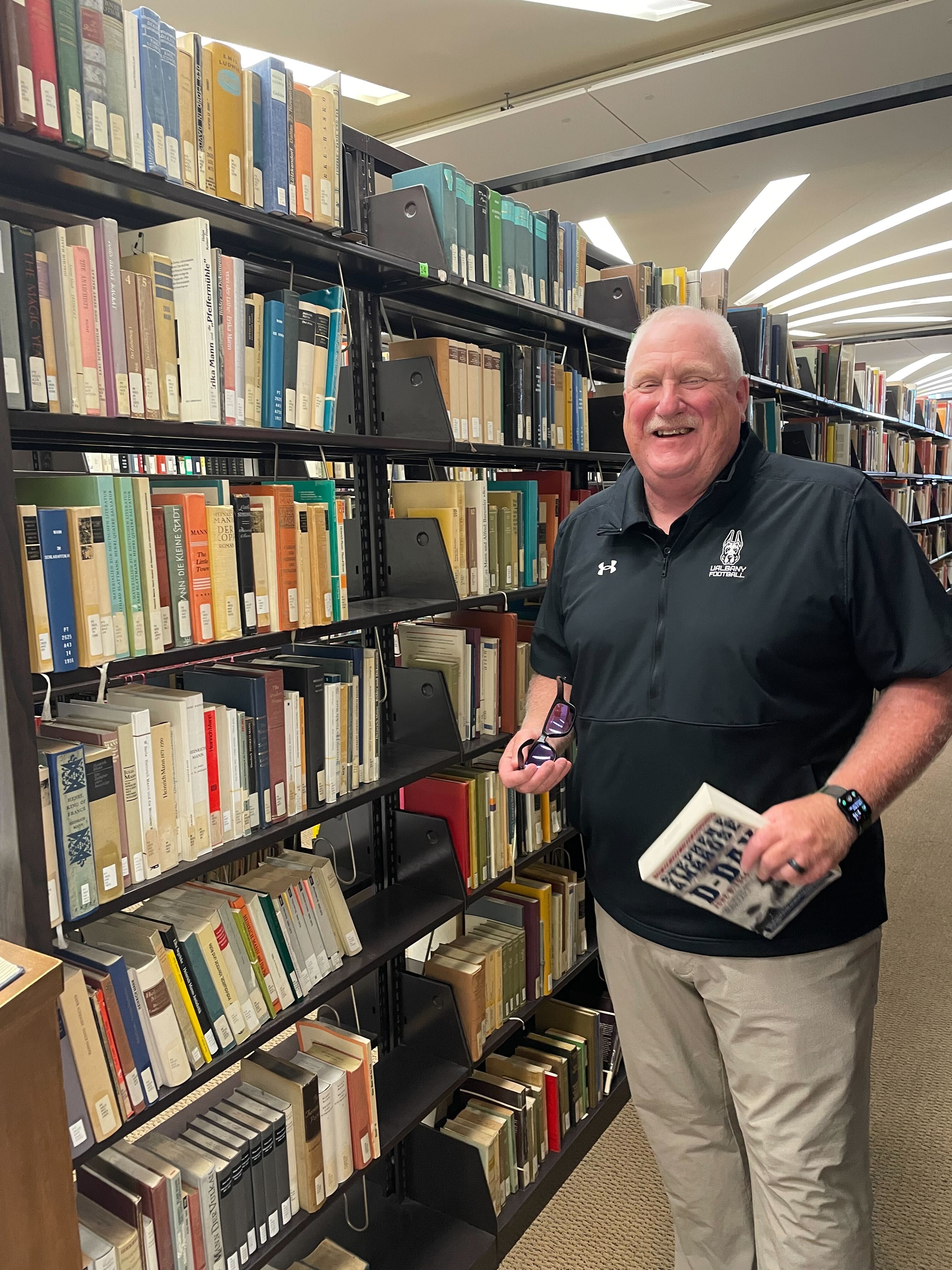 Head Football Coach Greg Gattuso
When I was young, I was very into libraries because of my mother. She was the person that got me reading; she read to me all the time. But back then you had to go to the library to get books. We didn't have many books in the house because it was expensive. So, the library was big when I was young for reading. We didn't use it for studying or anything like that, but it was to kind of escape. At least that's what I used it for.
Do you remember any specific librarians?
I obviously remember teachers who have been impactful, but as far as libraries go, I would say my mom was my librarian. She read to me all the time, and that's really why I read. I spent most of my life of reading a lot, and I still read a lot today, but now it's on the internet reading news and things like that. I still do enjoy great books, though, and she's the one that got me into it, one hundred percent.
When you were a student at Penn State, what role did the libraries play?
Well this part is interesting because the Pattee Library was where we did our study hall when I was in college, and I spent my entire first semester figuring out escape routes out of the library. Dr. Downing, our academic coordinator, could never find me and it was driving him crazy. I literally had escape routes everywhere, and my grades reflected it. They were not very good! Then one day I got caught by the head football coach and was told by him, in no uncertain terms, if my grades don't go up then I'm gone. That's when I started to learn to use the library properly and started listening to Dr. Downing.

I guess that my little anti-library phase when I was young. I wasn't a great student coming out of high school and early in college, but that really turned me around. I started learning how libraries function, like I figured out how to find a book. Back then it was hard, or at least it wasn't easy. You know, it was files of 3x5 cards in drawers. It was a different kind of place, but that's where I came to grips with libraries being important and good study places. And my grades went up! It's pretty amazing how that works.
Could you walk us through one of those escapes?
This one is the best one: we were goofing around, and now imagine, we're all Division I football players, all these big guys. and someone got knocked into the emergency exit. It opened, but it didn't have an alarm. Or at least the alarm didn't sound. So once I knew that, that's where I went to get out.
I just gave my secret out. I hope Dr. Downing doesn't ever see this.
It's a good story though!
At least until the grades came out.
"I've been here 10 years, and there's players I've had that are getting to be grown-ups and they're involved. When you walk up into our press box, Coach Ford is prominent there with a bunch of the players from all the way back in the 70s or the 80s."
Well, on the positive side, you had 36 students named to the CAA honor roll in the spring semester. That's huge. What library resources do you think your students are using to be successful? What's important to them?
I just think being present at the library is important. We do study halls and try to get our young players to understand the importance of sitting down and studying. We say put the phones away, we make them put their social media away, and we supervise it to try to impact them. We try to teach how important time management is and how important it is to get into a quiet study environment. I do think the majority of our student athletes utilize the library.
Now the thing that's interesting, we were just talking about this, is that it's good students who are naturally good at using the library. It's knuckleheads like me that need to learn to use a library as they get older. I think our role is to try to get them up. It was exciting listening to Dean Hatch talk a little bit about ways to get kids in here. I think tutoring sessions would draw our student athletes in here, into a place where they can help themselves achieve. That's the resource we need probably more than anything.
So, it's a combination of the quiet space and the resources that makes the Libraries important to athletes?
I mean everyone talks about the music they have on, and I'm not somebody that can listen to music and concentrate on a book an academic endeavor. I think that that they need the quiet space. We really emphasize the studying aspect of it, and I think they understand the importance of actual, quiet learning. That's really the most important thing, to be able to seriously concentrate on your work. I think the libraries are a great place for that, and now having been here and having talked to the Dean, I think this is something we need to emphasize more with our players. Let's use those resources a little bit more.
Fun fact: Special Collections and Archives has digitized film from the 1973 season, the first varsity season of UAlbany football. How important is that history to the program?
In this program there's been two football coaches. You had Coach Bob Ford for 43 years, and I've been here for 10. I think the history is important, and it's something that that needs to be referenced more. You have to give Coach Ford all the credit, I mean he came here and started the program as club football. Then he walked this program through Division III football, to Division II, to Division I non-scholarship, to where we are now in the CAA. We're playing the University of Pittsburgh and Baylor now! We're going to Hawaii this year to play. The growth of this program from that day is amazing, and I don't know if you could have a better story than what Coach Ford did. You want someone like him to run the show and to represent this University. Then he passed the baton to me and we're trying to continue to raise the program.
Do you try to instill this history with your team? Do you talk to your players about UAlbany history?
It's not an everyday thing, but we do talk about it. We had Coach Ford meet with the players. I've been here 10 years, and there's players I've had that are getting to be grown-ups and they're involved. When you walk up into our press box, Coach Ford is prominent there with a bunch of the players from all the way back in the 70s or 80s. That's a good sign, but it does unfortunately get forgotten. I think it's awesome you guys are bringing that history back. That's going to be cool to see.
We have a few of your favorite books here: Outliers by Malcolm Gladwell and D-Day by Stephen Ambrose. When do you find time to read with your busy schedule?
My wife and I were sitting outside last night talking about this. I said, "I feel bad, I'm only getting halfway through books right now!"
Like I said, though, I've always been a reader. I read constantly through college, not always the stuff I was learning in school, mostly fiction—escapism things. But Malcolm Gladwell, I love his work.
Inserted Layout Image
Image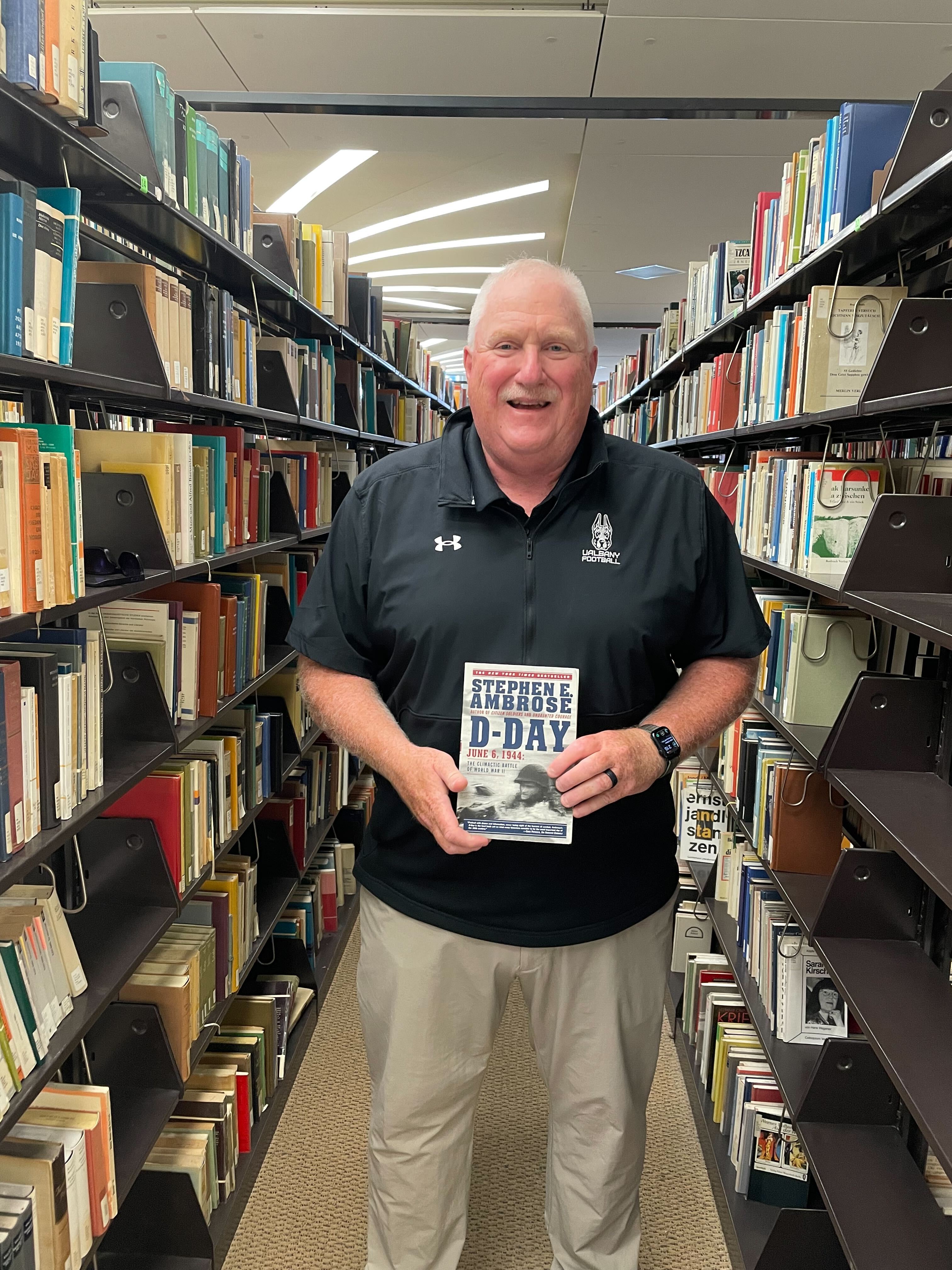 I believe it actually helped me a little to get this job. The president at the time, Robert Jones, we were talking, and he asked me how I would recruit here. It's a difficult task, true, because we're new and all that. I brought up Outliers and he was very surprised. I talked about what Outliers is about, how it's not about the largest or shiniest stadium or all those things but giving people opportunities to succeed. We had that nice little conversation and I got the job.
I just like to read, you know? I did the vast majority of my reading up until seven or eight years ago. Being a head coach kind of makes it a little tougher, but I still read things like Jack Ryan and Jack Reacher. I like the kind of special ops stuff. It's nice to sit down and kind of get away from things, that's kind of where my reading has gone. A lot of fantasy stuff, too. I've read everything from Lord of the Rings to David Eddings.
I haven't read enough history lately, but this one by Ambrose is an incredible book. I read this a long time ago, and I might have even re-read it. My father was a paratrooper in World War II, so this book has a lot of similar stories to the ones he used to tell me. He would rarely talk about the war, but when he would say something and it was in the book, that was amazing to me. It really rang to me.
How would you like to see the University Libraries and the UAlbany community celebrate this 50th anniversary season?
I think you've done your job! If you have video you could show at a game, that would be great. I would love to get it and show it to the players. Football has changed dramatically, in 1,000 different ways, from 50 years ago. The game looks completely different from even when I played in early 80s. If you looked at the size of the players back then, they're nothing compared to now. I mean, I'm a big guy. I played at 265 pounds, and that's a small guy now. That I think would really strike our kids. I think to see the video and to revisit that and bring Coach Ford in? I'd love to bring Coach Ford back and have him talk about the game. I think the team would eat that up. They'd laugh and they'd have fun and they'd see how different the game is.
We were watching a clip and what stood out to us was the running game.
Oh yeah, Coach Ford ran the ball like crazy.
It reminded me of what Woody Hayes used to say: "There are only three things that can happen when you pass the ball, and two of them are bad."
Yes, that's an old football saying—there are three things and two of them are bad.
That's a very different mentality than today's game where you have a Patrick Mahomes or a Tom Brady bombing passes down the field.

It is, it is. It's different, that's right. I think you can see that by watching videos from the 70s and the 60s. But it's not all different. I mean, I'd still say Jim Brown is the greatest player, and he's from the 60s. You still have to be physical; you still have to be in great condition. It's a challenging sport, and I think that hasn't changed. The strategy of the game might be different—sure, they throw the ball a lot more and they don't run the ball like they used to—but the values of football haven't changed.
Let me put it another way. Every one of my players, they come in when they're young and impressionable. They go through the college experience, and the football part can really help. It can help in the real world, too. I know it's helped me immensely. Football can get you ready for the toughness of your job and dealing with adversity. No one says yes to you every time, and that's a hard lesson for kids when growing up, but I think football really prepares you for that. That's the common theme from 50 years ago to today. It's preparation for when you go out in the world, you're ready to go, you're ready to fight for what you believe in, and you're ready to do your job. That's why I think football players make great employees.
When can we come out and see your first game?
August 26 is our season opener, at home against Fordham. It's only our second season opener at home, which is awesome. Fordham's a good team, but I think it will be great.