I am very excited and thankful to be returning to the University Libraries for another academic year. Despite the many challenges of launching the Library Ambassador Program in 2021, we were able to have a committed cohort with one returning ambassador and ongoing support from previous ambassadors. Being in-person is almost an entirely different experience for our students. The fall semester has given the campus community more opportunity to get familiar with the University Libraries. I am looking forward to the new opportunities that the spring semester will bring.
Image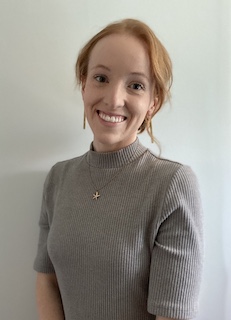 Jillian Palmer, Anna Radkowski-Lee Graduate Assistant for Marketing and Outreach
Based on what I learned during my first year, I can share my familiarity with library resources and services with fellow students and ambassadors. Everyone coming into the program has great ideas and diverse perspectives. The Library Ambassador Program has been a great opportunity to be part of a team where people get to use their creativity, build on their skills, and have fun with support from their peers.
Many ambassadors have been an integral role of communicating the value of the libraries to the campus, and in the spring, the team will be expanding the impact to the broader Albany community through partnerships with organizations like The RED Bookshelf. As part of this initiative we have are in the preliminary stages of seeing how to pursue this relationship, whether it's book drive or other activities.
To maintain engagement with virtual students and have the libraries be reachable to students we want to have more information out there in an easily digestible format. Melissa McMullen and Mark Wolfe in Special Collections and Archives, as well as subject librarians, have been participating in outreach activities that promote the library resources and services. Promoting social media will build an on in-person connection with our students but also boost ways to inform students on using library resources when the library may be closed or if they're fully remote students. Hopefully this semester we'll be able to share our in-person presence online and find new ways to illustrate what the Libraries can do for our students.