Entering its fifth season, the Librarians with Lattes podcast invites the University at Albany community—and beyond—to engage in conversations about the information field, higher education, and current events in general.
Launched in 2017, Librarians with Lattes has an interview-style format, where guests share their expert insights. Previous guests have included the University Libraries' Access Services team, Courtney D'Allaird of the Gender and Sexuality Resource Center, and Dr. Phil Eppard, Professor of Information Science.
Image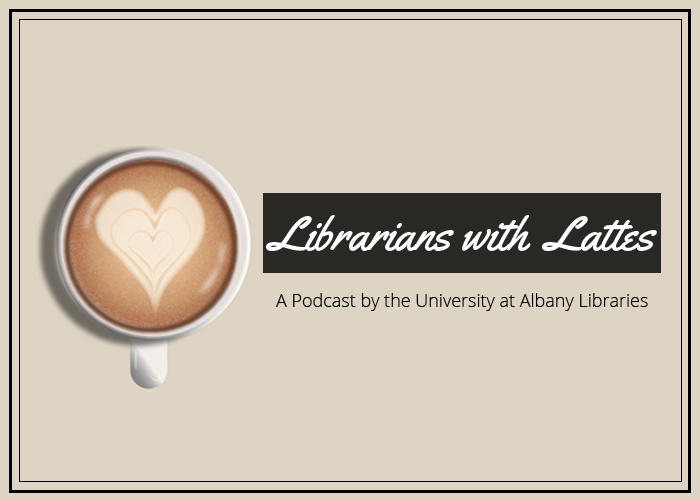 Amanda Lowe, the show's host and Marketing and Outreach Librarian, believes the podcast "…gives faculty, students, and community members a space to talk about a wide range of topics as they relate to not only the University Libraries, but our global community. We've talked about topics such as banned books, open access, art & feminism, and much more - these are all important discussions and I am glad that we are providing a forum for them to take place. Libraries are beacons of knowledge and help build the foundation for learners to build pillars of new knowledge."
Recorded on site in Studio B26, the Librarians with Lattes podcast exemplifies the multimedia resources available to students and faculty. Part of the Lower Level Lab, the studio offers access to green screens, video cameras, podcasting equipment, and more. Ryan Clow, Digital Scholarship Training Center Specialist, considers the podcast a win-win for the Libraries.
"The podcast is great for spreading awareness for work that is happening in the Library and some of the tools available for the campus community," he says. "It's an excellent program that encourages community use of resources by getting more faculty, library ambassadors, and students involved in the process of making."

According to Statista, a statistics database available through the University Libraries, the popularity of podcasts has grown significantly among U.S. consumers over the last 16 years. In 2006, 11% of consumers surveyed said they listened to a podcast before. In 2022, that number climbed to 62%.1
What can listeners expect for season five? "We are still in the process of filling out our season but I know it's going to be good!" says Amanda. "You can expect some really great guests from across our campus community and maybe even some from other states! September's episode will feature around the issue of censorship given, harkening back to our very first Librarians with Lattes episode for Banned Books Week."
Librarians with Lattes is available on Anchor, through Spotify, Apple, or your favorite podcast platform.
1Triton Digital. "Percentage of consumers who have ever listened to audio podcasts in the United States from 2006 to 2022." Chart. March 23, 2022. Statista. Accessed August 24, 2022. https://www.statista.com/statistics/188955/percentage-of-us-adults-who-lis…