Information is recorded in a variety of formats, including books and journals, film, magnetic media, and optical disk. Print collections line the shelves of academic and research libraries, threatened by premature deterioration from being published on poor quality paper, careless handling, or inappropriate storage conditions. Electronic resources are also at risk, especially from software and hardware obsolescence and a lack of much needed standards to help ensure files are maintained for the long term.
Image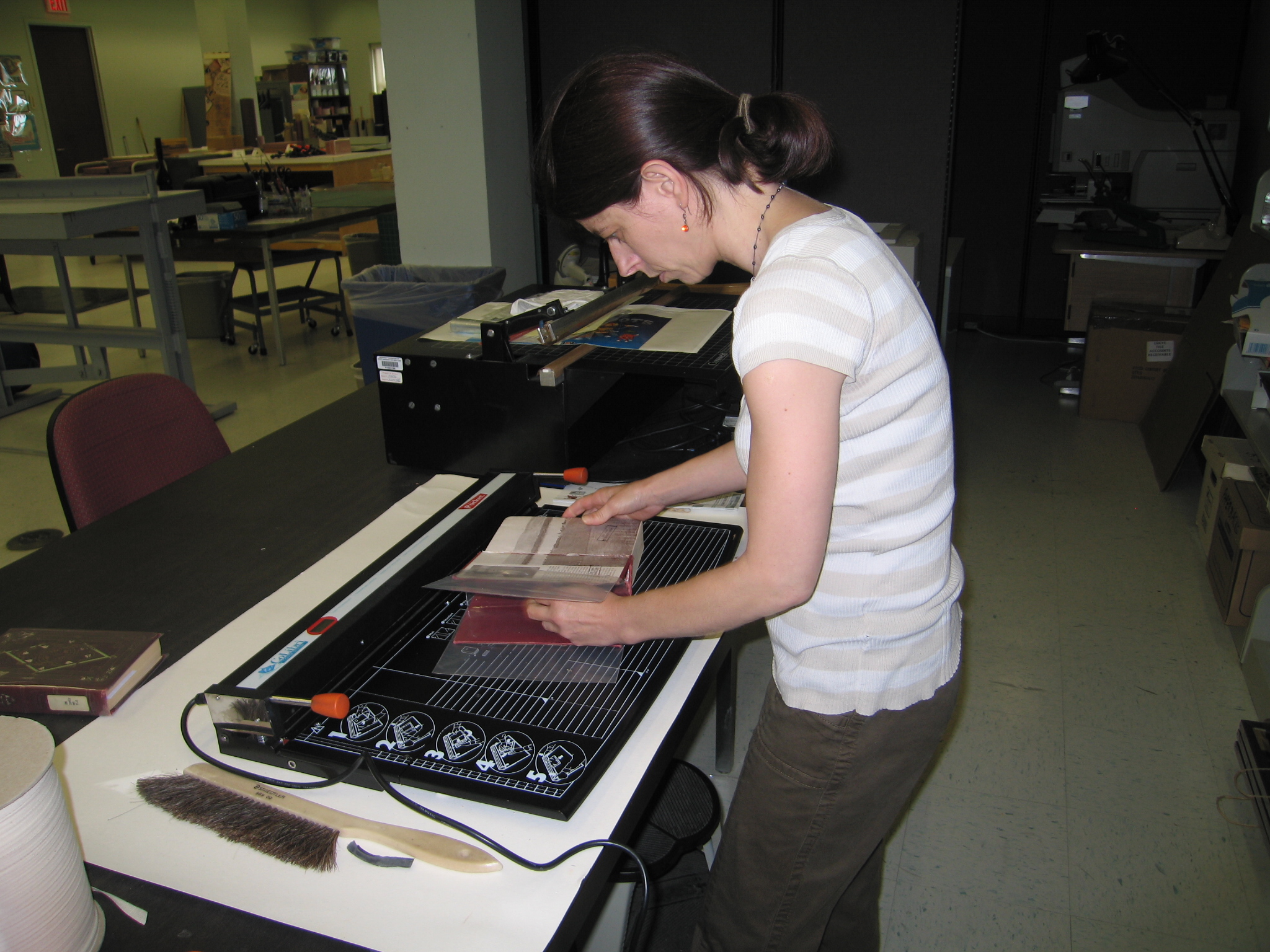 It is the responsibility of our research libraries to acquire information, organize it, make it available, and preserve it, regardless of format. The University at Albany Libraries have a well established preservation program that is effectively dealing with resources in traditional formats, and currently works with others in the University community and beyond to provide, organize, and preserve scholarly electronic materials with the same long-term commitment.
Preservation Activities
As books begin to deteriorate physically, they are inspected by the staff of the Preservation Department. Those having only minor structural damages may be rebound by a commercial bindery or repaired in-house. However, more sophisticated preservation treatment differs depending on whether an individiual item is valuable primarily for the information it contains or has significance as an art object or historical artifact.
Those with intrinsic value are likely to be transferred to the M.E. Grenander Department of Special Collections & Archives to insure proper storage and handling.
If the paper on which a book is printed has deteriorated to the point where its pages are too brittle to use without loss of information, or if a book is irreparable due to mold or vandalism, a decision is made by a library subject librarian about its value. Books which no longer have value for teaching or research are withdrawn from the collection. Those still useful for research and study, but which have no historic or artistic value, may be replaced, or reformatted as a microfilm, digital copy, or preservation photocopy. Photocopied material that is no longer protected by U.S. Copyright law is now scanned and made available as .pdf files through the Libraries' online catalog. Some volumes may be simply enclosed in a custom-made phase box or portfolio and returned to the shelf.
Services to the University Libraries include:
Repair and conservation of general circulating collections and holdings from the M.E. Grenander Department of Special Collections and Archives.
Managing the selection of irreparable books in collaboration with subject librarians; working with vendor services to reformat those being retained in the collection.
Environmental monitoring of critical spaces in the University Library, Science Library and Dewey Graduate Library.
Emergency planning, prevention and response to avoid and minimize risk and damage to the collections.
Staff training and education on a variety of preservation topics to help integrate preservation into our everyday work in the Libraries.
Providing assistance and advice whenever there are questions about protecting the collection, including issues related to stacks maintenance, commercial binding, security, and control of pests and mold.
Serving as a resource for questions related to the preservation of digital assets.
Members of the University and others in the Community are welcome to contact us for advice and information.
Where To Find
The Preservation Department is located on the third floor of the Science Library.