Alumni Services
University Libraries
Library Services
Alumni Services
Alumni Services
Alumni Borrowing Privileges
---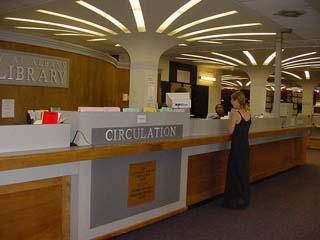 If you received a degree from the University at Albany, you are entitled to borrowing privileges as an alumni/ae. To register for borrowing privileges you must register in person at any of our three libraries' circulation desks. You must present valid photo identification when you register. Since we have to verify your status in the University Registrar's Alumni database, we strongly encourage you to visit us during regular business hours. (8 a.m. – 5 p.m., Mon. – Fri.) when staff with access to that database are available. Your Courtesy Borrower privileges are as follows:
30 day loan period for circulating books
25 item limit at any given time
Items may be renewed twice
Database Access
---
The SUNY Office of Library and Information Services provides remote access to two databases for alumni/ae. In addition, Alumni/ae who visit the University Library, on the uptown campus, may use nearly all of the hundreds of online databases on public computers. (Vendor licenses restrict off–campus access of these databases to current faculty, staff, and students.) We are also pleased to provide you with links to many free databases on a wide variety of topics. More information on Databases.
Ask Us!
---
We offer email and chat reference services seven days a week. To utilize this service, click on the Ask Us! link on the main web page.
Instructional Sessions
---
Alumni/ae are welcome to register for instructional sessions that focus on various technology applications. These classes are taught in our Interactive Media Center. Click here to find out about the classes and the schedule: http://library.albany.edu/ilearn/