We are here to assist you in making your experience at the University at Albany both accessible and successful. The Libraries offer a variety of services to persons with disabilities designed to enhance your ability to use our Libraries fully and independently. The information on this page will guide you in accessing the services and accommodations you may need. You are encouraged to explore the links and feel free to contact a Disability Service Coordinator if you have any questions. We are here to answer any disability related questions you may have throughout your college experience.
Image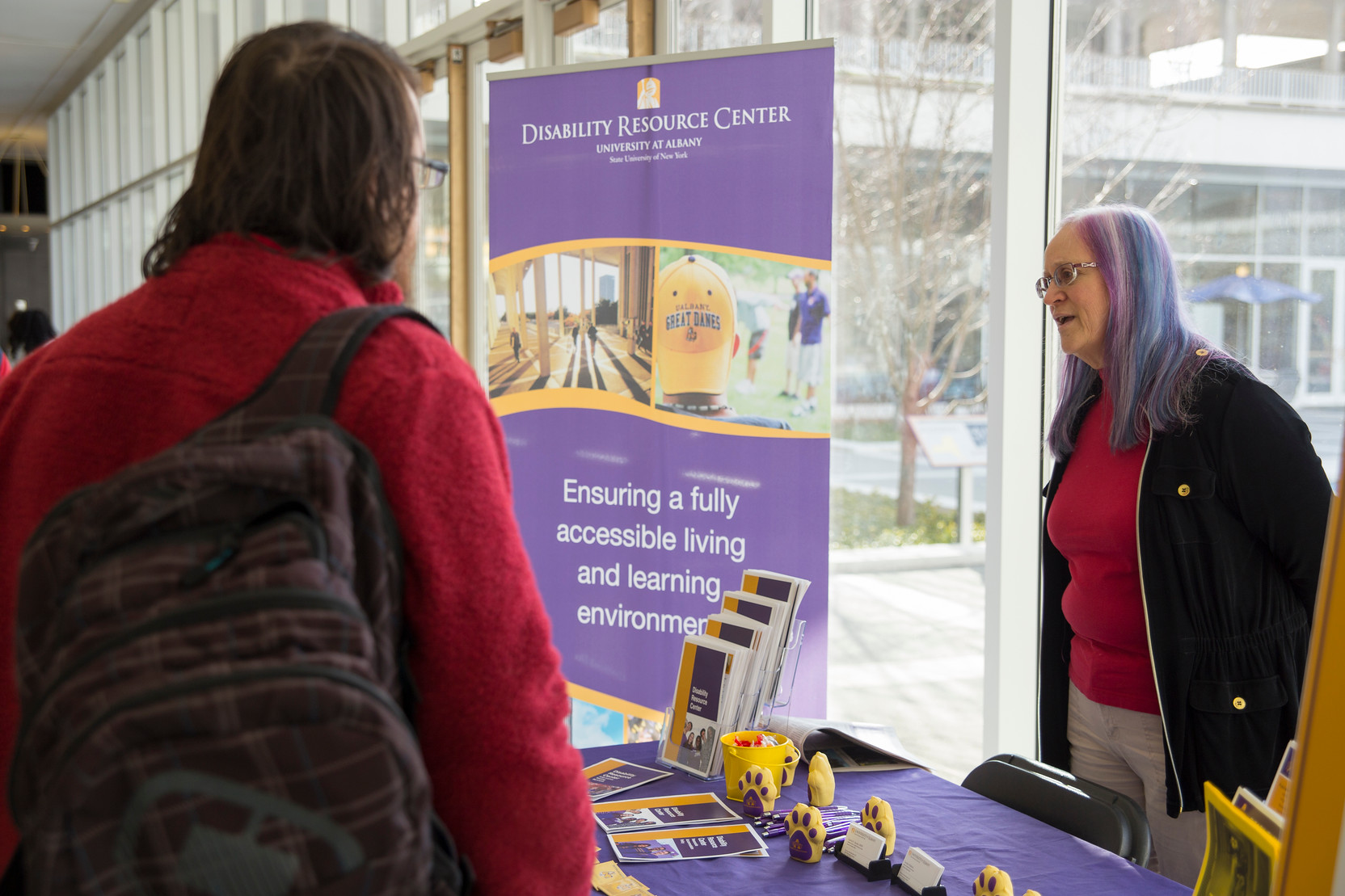 Eligibility and Registration
Many library services are available to students, faculty and staff of the University at Albany who are permanently or temporarily disabled. To be eligible for these services students must first register with the Disability Resource Center, Campus Center, Room 137, University at Albany, 1400 Washington Ave., Albany, New York 12222, (phone) 518-442-5490, (fax) 518-442-5400 or go to their web site.
Next you must register with the University Libraries. Library registration forms are available online or by request from any Disability Service Coordinator. Once eligibility is confirmed, a note will be placed in your online library record so library staff can provide these services. For individuals who are temporarily disabled, an expiration date for eligibility will be noted. Extensions are granted upon request.
For visitors who are not students, faculty or staff at the University at Albany, but who request library services, staff will, if possible, provide the same services described for University affiliates. Our goal is to facilitate access for all users, regardless of affiliation. However, limits in staff availability may prevent us from offering "while you wait" service.
Disability Service Coordinator
In addition to the services described here, a Disability Service Coordinator is available at each of the three libraries here at the University at Albany. The coordinator's role is to:
Respond to all inquiries regarding services to persons with disabilities.
Register users for services and verify eligibility.
Serve as a liaison to the Disability Resource Center.
Arrange for training in use of assistive equipment & software in the Libraries.
Arrange or provide orientations.
Coordinate requests for services with individual library departments.
Advocate for users in overcoming barriers encountered in the Libraries.
Recommend facilities and services to meet the needs of users with disabilities.
Orientations
Individual and small-group orientations are available upon request. Orientations include guided tours of library facilities and reviews of services offered.
The Libraries offer many instruction programs and courses. If you wish to attend and have special needs of which the instructor should be aware, your needs will be accommodated if advance notice is provided.
Contact a coordinator to make arrangements for an individual orientation or to provide notice of your special needs to instructors of regularly scheduled programs.
Accessibility
The University Library and its entrance doors, basement rest rooms, and other public spaces have been modified to improve accessibility. There is elevator access to all public areas. Entrance is on the podium level. Access to the academic podium is from the Washington Ave. entrance to the University.
Access to the University Library from the Collins Circle Visitor's parking lot:
Enter the Academic Podium between the Arts & Sciences Building and
the Fine Arts Building. There are ramps on either end of stairs leading to the Podium.
The Library is on the west end Podium closest to the bell tower at the reflecting pool.
The Science Library, constructed after the passage of the Americans with Disabilities Act, is our most accessible library. Entrance is on the podium level, east side of the library.
The Dewey Library, constructed in the early 1900s, has modified its entrances to facilitate access. Entrance is from the first floor of adjacent Draper Hall. Automatic doors and a wheelchair elevator increase accessibility. All services are available on the first floor of the Library; retrieval services are available to provide access to collections stored on the lower level. Dewey's electronic classroom is accessible through the lower level of adjacent Draper Hall.
Research Assistance
The Libraries offer a variety of services to assist you in the successful completion of your research and coursework. Online tutorials are available on this website.
Printed materials are available in the reference area of each of the three libraries. Once you've begun your research, if you are having trouble finding resources on your topic, you can ask at the Reference Desk or make an appointment with a librarian for in-depth assistance.
Through PAWS (Personalized Assistance With Searching), librarians will also help you develop a search strategy or provide individualized instruction, depending on your needs. To make an appointment for PAWS assistance use our online form or
contact the University Library Reference Desk at 442-3558.
Remote Access
Access to many library services and information resources are available through this web site.
You can access electronic journals, full-text databases and a vast array of other resources selected by library staff for the University community. Convenient links to library staff e-mail addresses facilitate personal contact between us and you.
Through the web site you can access the University Libraries' online catalog. You can search our collections, check due dates for items you have checked-out and renew eligible items. You can also search the catalogs of other libraries in the area or around the world.
Through Interlibrary Loan you can borrow items our library does not own and request that they be delivered to your home address or held for pick-up at any of the three University Libraries. You can request journal articles that will be delivered electronically to your e-mail account.
Through UA Delivery you can request materials from our collection and articles that will be scanned and delivered to you electronically.
Copying
Books, Reserve materials and Microforms require in-house photocopying. Library staff will assist with photocopying of these materials upon request. Standard copy charges apply. Provide a SUNYCard or Podium Card with your copy requests or anticipate paying for copy charges when you pick-up your copies. Submit your request at the Circulation Desk. Journal articles are provided for free through UA Delivery. (see: Remote Access)
Paging
Library staff is available to assist you if you cannot retrieve books or other materials from library stacks, this service is called "paging". Your request must include the exact title of the material and the call number. You should determine that the materials are part of the libraries' collection before submitting your request. You can submit paging requests through UA Delivery.
Proxy Borrowers
You may designate another person such as an aide, family member or friend to conduct library business on your behalf. This is called a "Proxy Borrower". Your proxy borrower may then complete forms, pick-up and return materials and conduct other business without you being present. You may designate more than one person as a proxy borrower. Note: You are responsible for any fines and lost book bills incurred by your proxy(s). Proxy authorization forms are available at the Circulation Desk.
Study Carrels and Study Rooms
In the University Libraries a number of library study carrels and computer tables are designed for wheelchair accessibility. Look for the universal access symbol.
A number of group study rooms are available to users with disabilities. These rooms can be valuable if you have a learning disability and need a quiet, private study space. Use is restricted to three-hour blocks on a first-come, first-serve basis. The rooms may be used for an additional three hours if no one else is signed-up to use them.
Lockers
Lockers provide secure storage for personal materials. They are a convenient method of stowing personal belongings rather than carrying them. Lockers are located in the basement of the University Library only. Lockers are assigned on a first come – first serve basis. To learn more about library lockers go to the University Library Circulation Desk or submit a request online at:http://library.albany.edu/circ/lockersandcarrels
Assistive Equipment and Software
Equipment / Software
Location
Kurzweil 1000: Is text to speech software that makes printed or electronic text readily available to people who are blind or visually impaired. Provides user with document creation and text editing. Information may be exported as an audio file to be accessible on other computers, MP3 players and other devices.
University Library - (basement)
Dewey Library - (1st floor)
Science Library - (1st floor)
JAWS screenreader software: Provides voice output from keyboard and mouse commands. JAWS uses an integrated voice synthesizer to output the content of the computer screen to speakers or headphones
University Library - (basement)
Dewey Library - (1st floor)
Zoom Text magnifier reading software: Enlarges and enhances everything on the computer screen.
University Library - (basement)
Dewey Library - (1st floor)
Dragon Naturally Speaking voice recognition software: Transcribes spoken or recorded voice commands into keyboard and mouse entry; can create and edit word documents or emails, launch applications, open files and more. (Requires some training to adjust software to individual voice).
University Library - (basement)
Dewey Library - (1st floor)
Duxbury Braille Translator and Braille Embosser: Provides Braille translation and output of text documents. Attached to PC with JAWS voice output software. Paper is provided.
University Library - (basement)
Audio Recorders: Recorders may be checked-out of the library.
University Library - (basement)
Other Library Materials
A number of items are available in other formats, such as:
Merriam-Webster Thesaurus in LARGE PRINT
ULIB REF PE 1591 M48
DEWEY REF PE 1591 M48
(Ask at Reference Desk)
Merriam-Webster Dictionary in LARGE PRINT
ULIB REF PE 1625 M4 1977
DEWEY REF PE 1625 M4 1977
(Ask at Reference Desk)
Braille Monitor AUDIOCASSETTE periodical
ULIB IMC PER HV 1783 B7
(Ask at Circulation Desk)
Many catalogs of Braille books, digital formats & sound recordings, especially those published by the Library of Congress, National Library Service for the Blind and Physically Handicapped are located in the
ULIB GovDoc J 85 LC 19 call number range.
(Ask at Periodicals Desk)
With advance notice, University Library publications can be made available in other formats, including Braille, spoken word and large print.